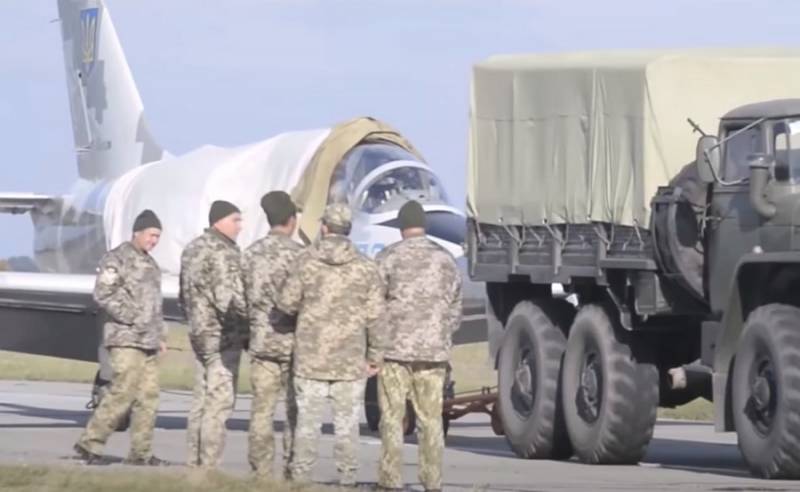 Russia has been waging a hybrid war with Ukraine for seven years. Recent events have shown that the Kremlin is not ready to stop the escalation of the military conflict and continues to build up its forces near the Ukrainian borders. Since the West does not want to enter into an armed confrontation with Russia, it is necessary to provide Kiev with such assistance that will help contain "Russian aggression." And there is such a way out - it is the modernization of the Ukrainian Air Force. Steven Blank writes about this in an article for the American edition of the Atlantic Council.
After the Russian invasion of Ukrainian territory in 2014, Ukraine made attempts to reanimate its military
Aviation
, the author writes. At the same time, for some reason, he attributes the deplorable state of aircraft and infrastructure to "decades of Soviet mismanagement," and not to the years of Ukrainian "independence", when everything that remained from the Soviet Union was sold.
The author emphasizes that the lack of spare parts did not allow the Ukrainian Air Force to commission a large number of combat aircraft, but the remaining number was sufficient to deliver a series of strikes against the invading Russian army, mercenaries and separatists. Blank writes that as a result of several airstrikes, "a significant number of Russian servicemen" were killed, but the Russian air defense stationed in Donbas prevented the Ukrainian aviation from completing the defeat of the Russian army.
Over the remaining years, Ukraine was able to repair a number of aircraft on its own, but the lack of Russian components greatly slows down the process. The country's air force is in a weakened state, the potential to contain "Russian aggression" is limited, since Kiev has nothing to respond to in the event of an air invasion by Russian aviation.
To remedy the situation, the author proposes to provide assistance to Ukraine by supplying aircraft. In the US "relief package", Blank proposes to include one hundred or more F-15s removed from storage, six to eight E-2C-2000 Hawkeye and eight to 12 KC-135R tankers, cruise missiles, ammunition, etc. In his opinion, Washington has many options to finance this assistance.
Strengthening the Ukrainian Air Force for the Biden administration is a powerful way to signal that the United States is no longer willing to put up with Russian antics in Eastern Europe, and Russia will incur tangible and long-term strategic costs for its malicious behavior.
- sums up Blank.