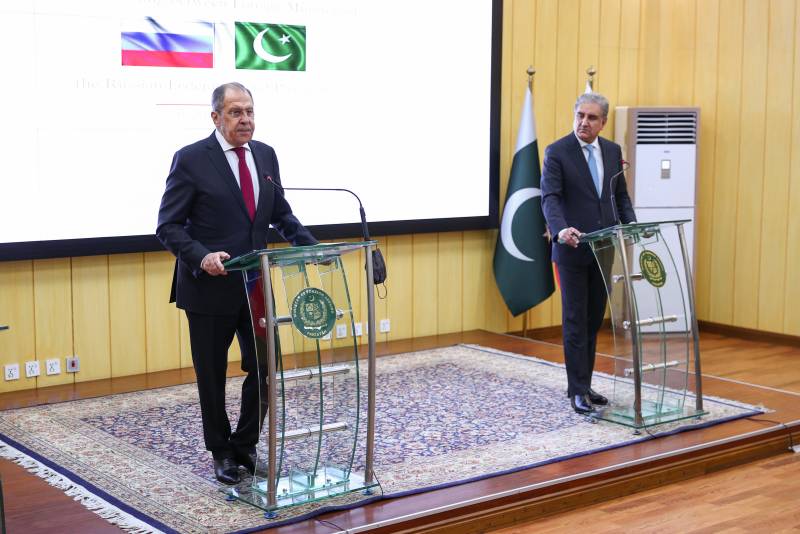 Foreign Minister pays a visit to Pakistan. This visit is part of Sergey Lavrov's major Asian tour. The Russian Foreign Minister and his Pakistani counterpart Shah Qureshi discussed a wide range of issues, including energy cooperation.
During the meeting, the topic of cooperation between the Russian Federation and Pakistan was raised in terms of the supply of Russian energy resources to this Asian country with a population of about 210 million people. Pakistan is the fifth most populous country in the world. This is a huge market, which requires more energy from year to year for the production and domestic needs.
At the meeting of the foreign ministers of Russia and Pakistan, the possible construction of a large North-South gas pipeline, which in modern plans is called the Pakistani Stream, was discussed. According to the project, the length of the gas pipeline will be slightly more than 1 km, and the main purpose is to connect large terminals of liquefied natural gas in the largest cities of the country - Lahore and Karachi. It is noteworthy that the corresponding intergovernmental agreement was signed back in 2015. The parties are now reportedly close to implementing it.
It is noted that the annual throughput of such a pipeline can be up to 12,5 billion cubic meters of gas.
At the same time, it is important that Russia offers Islamabad the supply of LNG from its fields.
Sergey Lavrov noted that Pakistan has a great interest in the highly competitive energy projects proposed by Russia.
Both states hope to expand trade ties. As it turned out, last year was a record for Russian-Pakistani trade - $ 0,79 billion. Moreover, the growth in comparison with 2019 amounted to 45 percent at once. This growth was ensured by supplies of Russian wheat totaling about $ 200 million. As noted by the Russian and Pakistani representatives, this indicates a high potential for its further growth, since so far in absolute terms the indicators are more than modest - taking into account the scale of the economies of the two countries.
During the meeting, security issues were also discussed. The topic of joint fight against terrorism and sea piracy was discussed. Russian and Pakistani military personnel will take part in the joint naval exercises "Arabian Monsoon".