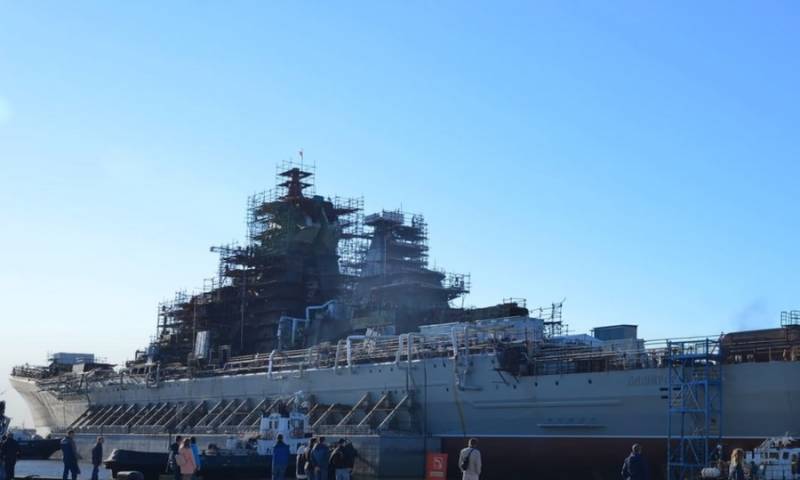 The heavy nuclear missile cruiser "Admiral Nakhimov" of project 1144 "Orlan", which is undergoing modernization at the "Sevmash", will return to the Naval
fleet
in 2023 year.
It is reported
TASS
with reference to a source in the DIC.
According to the source, the transfer of the cruiser to the Navy is shifting to the right and will occur in 2023, and not in 2022, as previously announced. The reason is problems with suppliers. The source did not provide more specific information.
Due to problems with suppliers, the transfer of the cruiser "Admiral Nakhimov" to the fleet has been postponed at best to 2023
- leads
news
source word agency.
At the end of last year, Deputy Minister of Defense of the Russian Federation Alexei Krivoruchko said that the transfer of the modernized TARKR "Admiral Nakhimov" to the Russian Navy is scheduled for the end of 2022. He noted that work on the ship is proceeding according to schedule, the military department has fully financed the repair. In September 2019, the cruiser was half ready.
The ship has been under repair at Sevmash since the 1999 year, modernization work began only in the 2013 year.
The project 1144 Orlan cruiser Admiral Nakhimov was laid down on May 17, 1983 under the name Kalinin. Launched on April 25, 1986, entered service with the Northern Fleet on December 30, 1988. On April 22, 1992 it was renamed into "Admiral Nakhimov". She is one of four Project 1144 Orlan heavy nuclear cruisers.