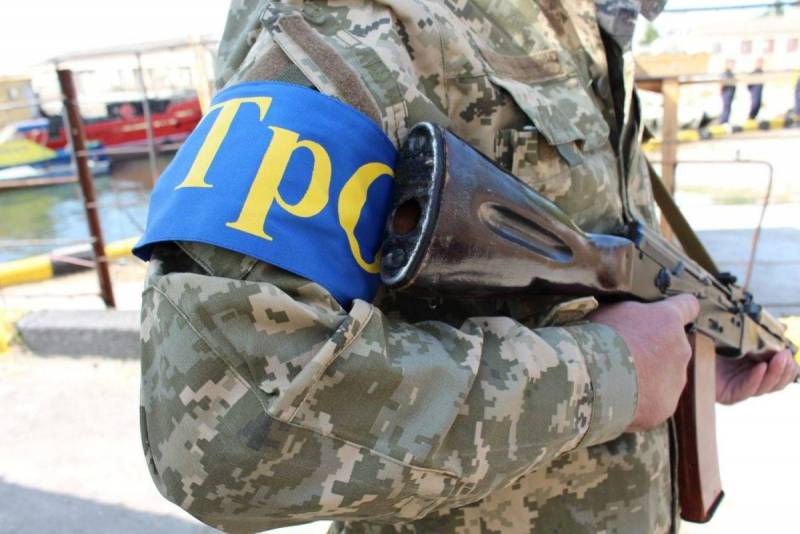 It became known that the command of the Land Forces of Ukraine announced the gathering of territorial defense units (TRO). The units of the territorial defense, according to Ukrainian media reports, will be engaged in practicing actions aimed at combating sabotage and reconnaissance groups of the enemy, protecting critical infrastructure.
The press service of the Ukrainian military department informs that at the moment the tasks of "building up the capabilities of the Troops" are being solved.
At the same time, a list of specific tasks is announced that will be solved by territorial defense units during the announced fees. The main task was declared "to protect the administrative border with Crimea."
Recall that in Kiev they continue to consider the Crimean peninsula its territory, and therefore the state border between Ukraine and Russia on the Crimean section is called "administrative".
It is also noted that the TRO units will be involved in monitoring the implementation of the curfew in a number of settlements in the south of the country, to protect the buildings of state authorities, infrastructure facilities of particular importance.
From the report:
Troop divisions will also be engaged in countering anti-state illegal armed groups.
The Ukrainian press, including the military-themed portal Defense Express, commenting on the announced fees of territorial defense units, writes that "this is how they are preparing for a Russian attack from Crimea".
Let us remind you that all the last days have been talking about an allegedly prepared Russian attack in Ukraine. Earlier, the press secretary of the President of the Russian Federation, Dmitry Peskov, answered a question from a Ukrainian journalist, which sounded something like this: "Will Russian servicemen get lost when moving near the borders of Ukraine?" Peskov noted that "they will not get lost," and that the Russian military can move anywhere on its territory, while Russia does not pose a threat to any country, including Ukraine, but cares about its security, as it should be.