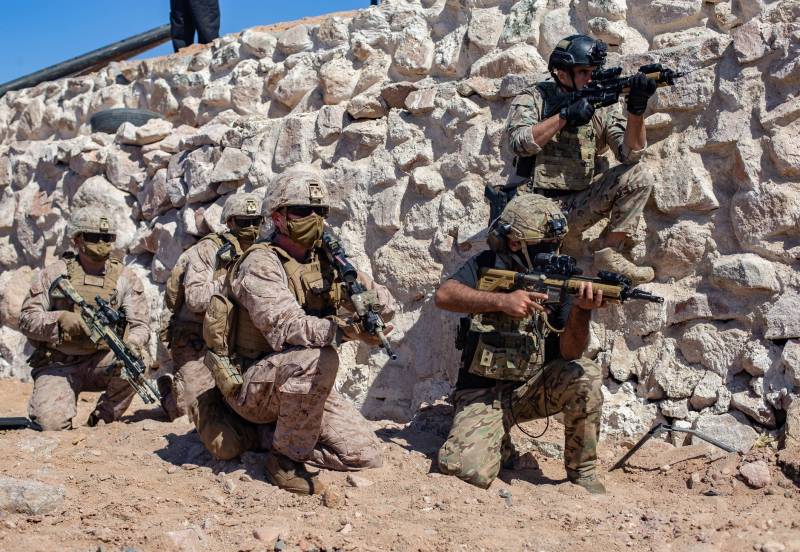 On the eve of the "Military Review" reported that the US State Department "called on Russia to explain the movement of troops and military equipment near the borders of Ukraine." The corresponding statement was made by the press secretary of the US Foreign Ministry. At almost the same time, Russia drew Washington's attention to the presence of the American military on the territory of the Syrian Arab Republic, contrary to international norms, and called for an explanation on this matter.
In a joint statement by the coordination headquarters of Russia and Syria, it was noted that the presence of the American military in Syrian territory without an appropriate decision of the UN Security Council and without an official invitation from the SAR authorities is an occupation that aggravates the situation in the country and in the region as a whole.
It was noted that the American presence in Syria contributes to the resumption of terrorist activity throughout the Middle East.
In a joint statement by the Russian and Syrian headquarters, it is noted that the terrorist activity of ISIS militants (* banned in the Russian Federation) continues in the US-occupied territories of the Syrian Arab Republic, including the situation in the area of ​​the Al-Hol refugee camp.
From the statement:
With the connivance of the American side, the militants organized a delivery channel to the camp
weapons
, ammunition and communications. Jihadist courts operate in El-Khol.
It is pointed out that it is beneficial for the American side to maintain the situation of chaos and instability in the Syrian territory in order to "continue plundering the natural resources of the SAR". We are talking, for example, about the illegal extraction of oil and its export from Syria.
The Russian and Syrian ministries note that the United States needs to explain its stay in Syria and recognize its illegality.
The Western press drew attention to these statements. So, in the Polish edition of Defense24 it is stated that "with such words Russia is trying to divert attention from the Ukrainian problem." Then, according to the same logic, statements about the Ukrainian problem in the US and the Polish media are trying to divert attention from the problems of Syria ...