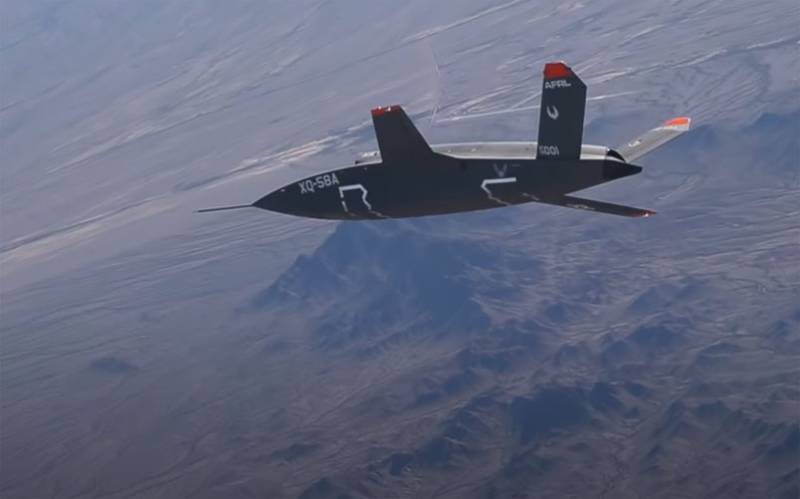 The Valkyrie stealth drone has passed the next round of tests. It is reported that a stealthy American drone, during the sixth test flight, launched from its own side a small drone located in its internal compartment. We are talking about a compartment intended for weapons.
From the internal compartment of the XQ-58A Valkyrie, an ALTIUS-600 UAV was launched, as reported in the American press. Tests of such a plan were carried out in the airspace over the Yuma test site in the state of Arizona (USA).
In addition to realizing the possibility of launching a drone from its board, the Valkyrie UAV has worked, as noted, and its "new technical capabilities." According to reports from Alisson Turri, flight demonstration program manager for the company that developed the UAV, the Valkyrie showed improved values ​​in both speed and altitude during a new test flight.
In Turri's post:
The XQ-58A Valkyrie drone has surpassed the performance that has been demonstrated by an unmanned aerial vehicle during previous demonstration flights.
Kratos Unmanned Systems President Stephen Fendley:
The successful operation of the system for the use of weapons from the inner compartment continues to testify to the incredible capabilities of the UAV.
According to Fendley, the XQ-58A Valkyrie is "a unique stealth drone, unparalleled in value for money."
Usually the phrase "has no analogues in the world" is ridiculed by individual users and experts when something similar is stated by Russian manufacturers of military equipment and weapons. Now there is a chance to evaluate the statement of the head of the Western company.
For your information:
At the moment, three XQ-58A Valkyrie UAV gliders have been assembled in the United States. The first of them made a launch flight in 2019, but during the third flight, as noted in the West, it "failed." One of the XQ-58A UAVs in the United States was previously tested as a kind of gateway for data exchange when performing combat missions with F-22 and F-35 fighters, the protocols of which do not allow such an exchange to be carried out directly.