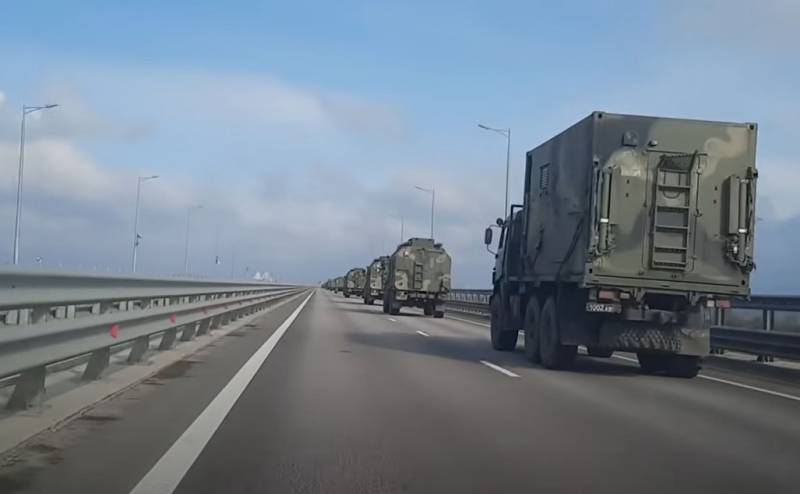 The US State Department has once again focused attention on the movement of Russian troops across Russian territory. We are talking about shots that capture the military equipment of the Armed Forces of the Russian Federation. Washington, as it turned out, was not satisfied with the statement by the press secretary of the Russian president that Russian military equipment could move anywhere in the country without endangering anyone.
A spokesman for the US Foreign Ministry said that "Washington is concerned about the movements of Russian troops near the borders of Ukraine."
Representative of the US State Department:
We are waiting for an explanation from Russia on this matter. We consider the movement of military equipment near the borders of Ukraine provocative.
The US State Department said that with such actions "Moscow is trying to intimidate Kiev."
From a statement by an American official:
At the same time, the US administration clearly defines its position on supporting Ukraine.
The following fact is noteworthy: for some reason, the US State Department "did not notice" how Ukrainian heavy military equipment from various Ukrainian regions was moving to the area of ​​the so-called Joint Forces Operation (JF). Numerous shots appeared on the network with the APU transferring
Tanks
, Armored personnel carriers, infantry fighting vehicles and other equipment by rail to Donbass.
Earlier, Joe Biden, during his telephone conversation with the President of Ukraine, said that the United States "will not leave Ukraine alone with the aggressor." In Russia, commenting on this statement by Biden, they stressed that any appearance in Ukraine of NATO troops, including the United States, would lead to a further escalation of the conflict.
Meanwhile, reports are coming from the DPR about a clash between the people's militia and the enemy's sabotage and reconnaissance group. According to the latest information, the Ukrainian DRG tried to cross the demarcation line near Horlivka - in the area of ​​the village of Shumy. In the message of the UNM DNR it is said that after a short battle, the DRG of the Armed Forces of Ukraine was forced to retreat to their positions. According to the latest information, this clash took place the day before. After the event, the sappers of the NM DNR found the body of an APU soldier born in 1995 on the ground. This is what the People's Militia Directorate of the republic says.