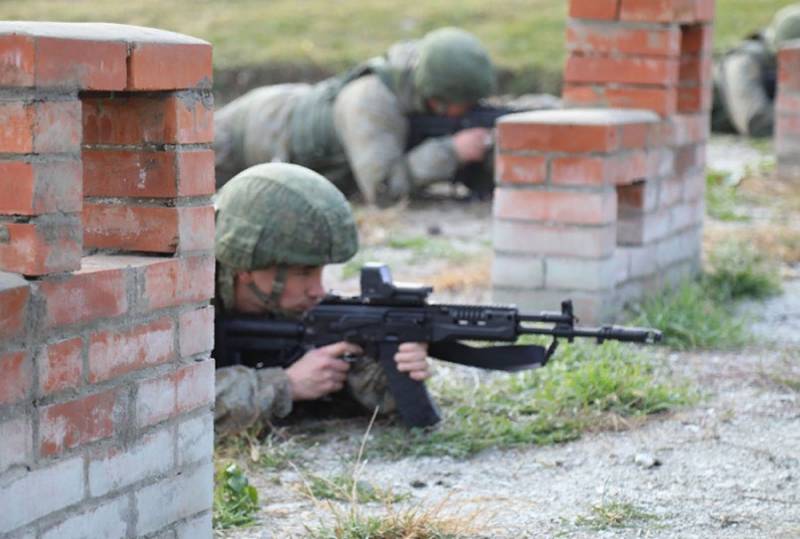 The special purpose regiment of the Southern Military District has been completely re-equipped with new AK-12 Kalashnikov assault rifles. According to the press service of the Ministry of Defense, the special forces received another batch of new machine guns.
A batch of the newest AK-12 assault rifles entered service with the special forces regiment in the Stavropol Territory, thereby completing its rearmament with a new assault rifle. A total of 300 machines were included in the batch. As specified in the military department, the regiment was one of the first in which the AK-12 completely replaced the AK-74M. In total, more than 150 thousand AK-12 and AK-15 assault rifles are planned to be delivered to the Russian Armed Forces within the framework of a three-year contract.
It is noted that the AK-12 has an increased accuracy of fire, barrel survivability and improved ergonomics. It has three firing modes: single, automatic and burst with a two-shot cut-off. On the
weapon
a removable muzzle brake-compensator is installed, it is possible to install a low-noise and flameless firing device. The buttstock is foldable, adjustable in length, there is a Picatinny rail on the receiver. A 40-mm grenade launcher is installed on the machine.
The Kalashnikov AK-12 assault rifle entered service in 2018. As previously stated in the Ministry of Defense, in the army, it mainly replaces the AK-74M. The assault rifle was developed as part of the Ratnik program and is included in it as one of the elements of a promising complex for equipping fighters of the RF Armed Forces.
Caliber - 5,45x39 mm, weapon length in firing position - 880-940 mm, with folded stock - 690 mm, weight without cartridges - 3,5 kg, rate of fire - 700 rounds per minute.