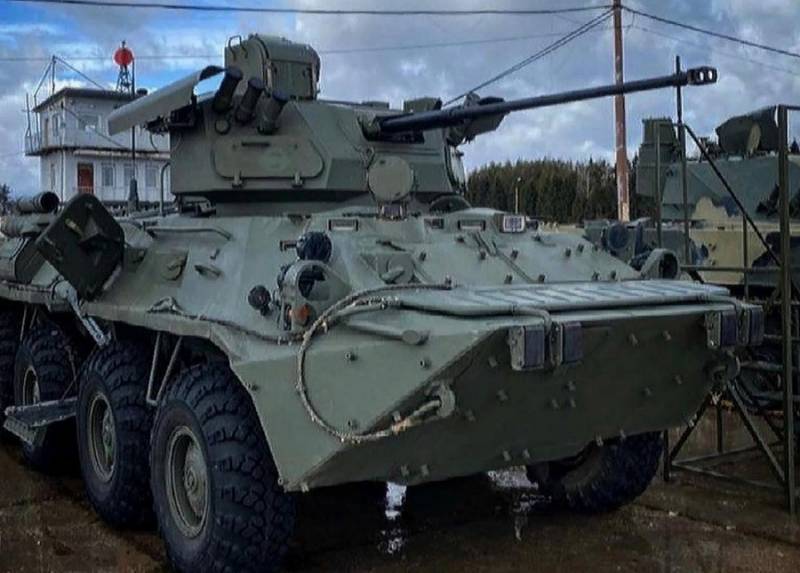 The newest remotely controlled combat module BTR-BM, installed on the BTR-82, was shown last Friday at one of the military training grounds in the Moscow region. This was reported by the press service of the Military Industrial Company (MIC).
Reportedly, the new combat module was developed by specialists from the military-industrial complex and the company. "
Weapons
workshops. "The work was carried out on an initiative basis. The development differs from the already existing analogs in significantly larger angles of aiming weapons in the vertical plane, the ability to replenish the ammunition from the inside of the vehicle without going outside, as well as work in a complete absence of power supply.
The main armament of the module is a 30-mm automatic cannon and a coaxial machine gun of 7,62 mm caliber, as well as anti-tank missiles. The installed automated fire control system allows firing both from a place and on the move. The sighting system provides weapon guidance at any time of the day and in poor visibility conditions.
The module can be installed on any armored vehicles, boats and small ships, as well as to arrange stationary firing points.
The new module installed on the BTR-82 was shown to the commission of the Ministry of Defense headed by Deputy Defense Minister Alexei Krivoruchko and was highly appreciated. The prospects for adopting a new combat module, as well as the possibilities of mass production, have not yet been reported.