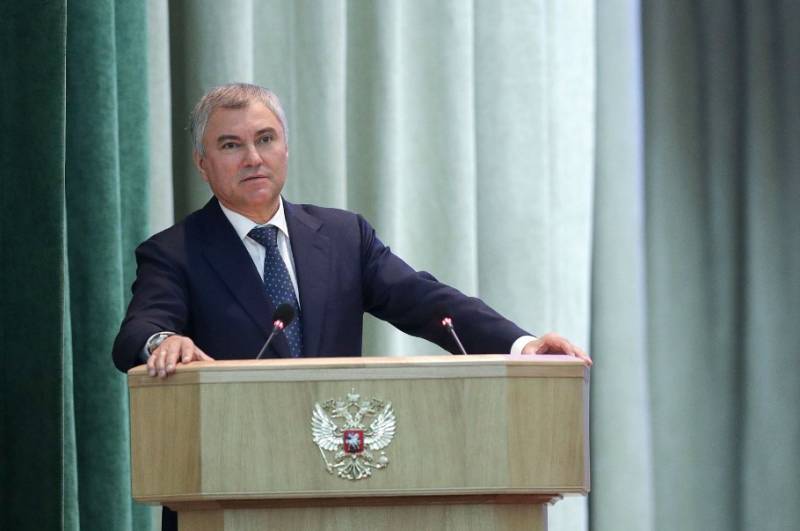 Incitement by the Ukrainian authorities of military action against the inhabitants of the LPR and DPR is unacceptable and will not go unpunished. The State Duma of the Russian Federation believes that such a policy of Kiev may end in a tribunal for it.
Speaker of the State Duma of the Russian Federation Vyacheslav Volodin wrote about this in his Telegram channel.
This was the reaction of the Russian politician to the death of a five-year-old child as a result of a drone hit by the Ukrainian Armed Forces on the outskirts of Donetsk. He said that official Kiev is purposefully engaged in escalating the conflict in Donbass and intimidating its residents. The Ukrainian authorities are not doing anything to help resolve the conflict. Volodin believes that this could end very badly for the Ukrainian leadership itself and bring it to the dock of the Hague Tribunal.
If the radical Ukrainian politicians believe that they can get away with everything they do in the LPR and DPR, then this is not so.
- said the speaker of the State Duma.
He also warned the Ukrainian leadership that he should not rely on Western support for his actions in Donbas. Indeed, Europe will not approve of the war unleashed by Kiev near the EU borders. And the United States will have to pay a triple price for support.
Recently, former commander of the US Ground Forces in Europe Ben Hodges told the Ukrainian program "Rada of National Security" that America and Russia will be able to find a common language if Moscow stops "showing aggression." At the same time, he added that only strength is respected in the Kremlin. At the same time, Hodges repeated the insult made by Joe Biden, but against the Russian president.