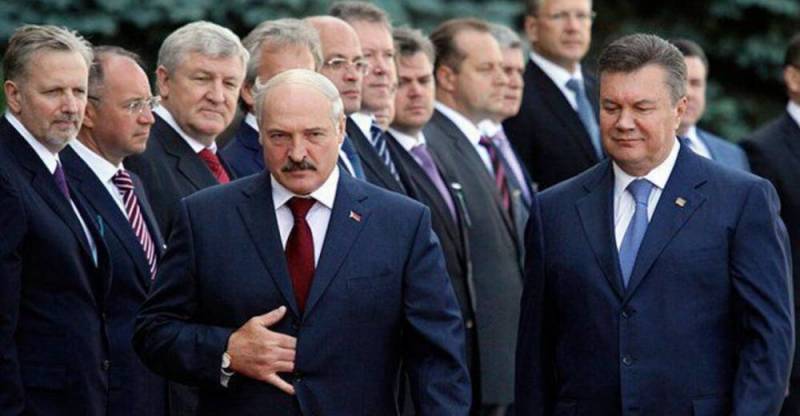 Underestimated Yanukovych
And yet Yanukovych is greatly underestimated in our country and in Ukraine. Here, after all, depending on what to compare. And in comparison with both Poroshenko and Lukashenko, it was
very, very
not a bad politician. Exactly this way and nothing else.
To begin with, he was not very eager to take those "IMF loans" that Alexander Grigorievich and Pyotr Alekseevich were rowing "as if not in themselves." Viktor Fedorovich was not very interested in this "gesheft", which undoubtedly testifies to a much higher level of his intelligence.
Simple as a fact. We will not discuss the pros and cons of IMF loans here. We swam, we know. The IMF is a very specific organization. So there is an unconditional and definite plus for him. Well, and finally, from the 13th year, he came out with very good cards: Ukraine
was
interesting to both Russia and Europe, therefore he,
not making a final choice yet
, could bargain. And he bargained.
Didn't give the EU money? No problem! He negotiated a $ 15 billion loan with Putin. By the way, given the importance of the moment, the decision for Russia is absolutely correct. Otherwise, for 300 years later we would have remembered that at a critical moment "you missed the opportunity to change the course
stories
because of some miserable 15 billion "... So, 15 billion was not a pity, but, as it turned out, there was no opportunity to change the course of history.
It was a fake.
But in fact, Yanukovych had good cards in his hands (the environment, however, let us down). Because Ukraine. Because he asked
on credit
... Because after the loan, he automatically offered certain agreements with Russia. But it didn't work, alas. The Ukrainians did not understand his game, although he just played well in their interests.
Lukashenka's position
What is the mistake of Lukashenka, who insists on "compensations for the tax maneuver"? And he does not ask, but demands 10 billion (compensation for the tax maneuver),
irretrievably
... That is, it is never a loan. Requires Belarus, which is an order of magnitude less significant than Ukraine. And he does not offer any serious steps either in politics or in the economy in return.
This would never have occurred to Yanukovych. After all, he was a fairly sober-minded politician and understood that miracles do not happen. And free cheese is only in a mousetrap.
That is, given the "scale of the state", not 10, but 3. And not irrevocably, but on credit. And not "just like that", but in response to "certain steps". Then yes, then you can talk about something. But 10 billion as a gift? This is something with something. Let's start giving out money to everyone? Right and left, as under Brezhnev? Do we have a lot of them?
And most importantly, it is not clear what the bargaining is about: Lukashenka made his main choice long ago. I did it far from in favor of Russia. The last 10 years have been a complete and final turn to the West in the field of diplomacy. On all counts. Which seems to have delighted American diplomats. Fine, but then what is he trying to "sell"? What, in general, can we talk about when, in fact, he has already made the most important and most significant choice for Moscow?
Both in domestic and foreign policy, everything is more than clear. That is, as a rule, money is given "for a reason", it is usually given "with intent." And just in Ukraine, at the turn of the 13th and 14th years, it seems that the same "fork" took place. And it seemed like it made sense to invest ... But now what do we have? We were even told a terrible story about a possible "non-signing" of a certain document on the anniversary of a certain treaty on the Union State. And supposedly it would be a real scandal. Truth? Yah?
Point of view
No, of course, it is precisely in "fraternal Belarus" that there is a cruel choice: what to do next? Everything there is now very serious: the economy is collapsing, the people are already openly fleeing the country ... The funny thing is that the system of power in Belarus has turned out to be much more stable than the country itself. The system stands rooted to the spot, and the country collapses. Such is the paradox, such is the inconsistency. The system of Belarusian power could have existed for a very long time, if not for the economy or if it were not for the open borders. That is, if the Republic of Belarus were an island, and boats with machine guns would float around (helicopters flew, as in the game "Far Cry"), then the regime could exist for a very long time ... But no. Narodishko scatters, and the budget is completely empty.
And here there is already a very strange point of view of the Belarusians themselves. It seems to them that absolutely all European politics revolves around their country. Russian - for sure. Well, at least the management thinks so. Somehow people do not understand that their country is not the center of world political games. And if Belarus collapses, then Russia will stand. Europe will also stand. RB is by no means the center of the Galaxy.
That is, Lukashenka had to come up with convincing reasons,
why does Russia need to save his regime
... It was advisable to start thinking about this ten years ago. Let's leave the sentiments, purely pragmatically - the conversation is not about "helping Belarus", but directly and specifically about helping "Lukashenka's regime". So here
why
Should Putin save this regime? For what purpose? What has Lukashenka done useful for Russia?
Can't you imagine Belarus without Lukashenka? Well, in vain. Many could not imagine Moldova without Plahotniuc. However, it happened. And there it seems like Russia and the West have joined forces to "knock it off". And the "Plahotniuc's gang" fled the country. If anything, Lukashenka is an enemy for the West (the last dictator of Europe). For Russia, over the past 12 years, in fact, he has also ceased to be a friend. Finally.
And today Alexander Lukashenko is asking Putin to save his regime (remember: Belarus existed before Alexander and will exist after him). What for? For what purpose? What's the point?
Meaning, from the point of view of Russia, and not the functionaries of Lukashenka's regime. Over the past few years, Alexander Lukashenko has been regularly visiting Sochi, Moscow and St. Petersburg. To no avail. The problem is not in the regularity of the "raids", but in the semantic component of these meetings. That is, you need to offer something interesting. There is nothing to offer the Belarusian president (apparently). So why meet again? Why waste time from a busy person?
"Kharkov agreements" and "31st card"
And Lukashenka is solving the problem head-on. He travels to Russia over and over again and tries to push Putin. That is, nothing clever, unusual "the gentleman from Drozdy" did not come up with. Over and over again he storms the sky, trying to break through the wall with his forehead. Everything. All tactics and strategy. Nothing more. He offers nothing serious and does not try. No, "in the course of the play" he also makes claims there. But, apparently,
really
no serious negotiations are underway, and for a long time (Lukashenka has already been offered porridge there (on the water)).
Lukashenka approached the problem in a childish way, that is, he made all the fundamental decisions in politics "very in advance". And already to Mr. Putin for a meeting, he goes with fully formalized decisions on all points of foreign and domestic policy and with a willingness to discuss exclusively "economic" issues. Negotiations that have been going on completely unsuccessfully for the past several years.
The comrade is still eager to "compete on equal terms," ​​and still cannot calm down. That is, Lukashenka "drew his own picture of the world" and is already trying to "push" Russia under it. The last story with "not his war" from the same series. There, the press secretary of the President of the Republic of Belarus deftly "clarified the situation": the words were taken out of context. And she "counterattacked": if we have gone through so much together, then what disputes can there be over prices? This is the whole of Belarus ...
The author can only assume the reasons for choosing exactly the line of policy that was chosen. But this is somehow very strange ... Why choose Russia as the "main threat" is not clear. From a purely technical point of view. That is, the person somehow did not fully think over the consequences to which such a policy could lead. Today
any
Lukashenka's step towards Moscow will immediately be regarded within Belarus as a completely obvious betrayal.
Moreover, the person deprived himself of any maneuver. Oddly enough, "strong" Lukashenka has room for maneuver
much
less than the "weak" Yanukovych. The latter eventually signed
Kharkiv agreements
.
What did Mr. Lukashenka sign? Comparable? Name, please, be so kind. And by the way, the signing of the Kharkiv agreements went relatively smoothly. One attempt to sign the enigmatic Card 31 led to powerful anti-Russian demonstrations in Minsk.
For some reason we have a strange stereotype that, they say, Ukraine was not as pro-Russian as Belarus, and Yanukovych was like a weakling. Maybe so. But now, despite the fierce Bandera and Westernism, Mr. Yanukovych put his signature on the Kharkiv agreements.
But all this "pro-Russian" and "tough" Lukashenka, who supposedly holds the country in his fist, could not offer anything of the kind. Even in an absolutely critical situation for him. The "weak" Yanukovych needed economic concessions, and he got them. The "strong" Lukashenko, in turn, prefers to endlessly travel to Russia to see Putin. And conduct absolutely endless negotiations. Interested in oil and gas prices? But the head of Belarus does not want or cannot offer anything interesting in exchange.
And every time, not getting what he was looking for, Mr. Lukashenko (all so stern and pro-Russian) goes home in frustrated feelings. The man has been in big politics for 25 years, but he has not yet mastered the basics of political negotiations. It is necessary not only to loudly and persistently voice their "Wishlist", but also to offer something in return. Then things will go much more fun.
Yanukovych, if anything, publicly did not call Russia names (weakling!), Negotiated behind closed doors. And he conducted them successfully, unlike Mr. Lukashenko, who over and over again tries to popularly explain to the Kremlin how good he is ...