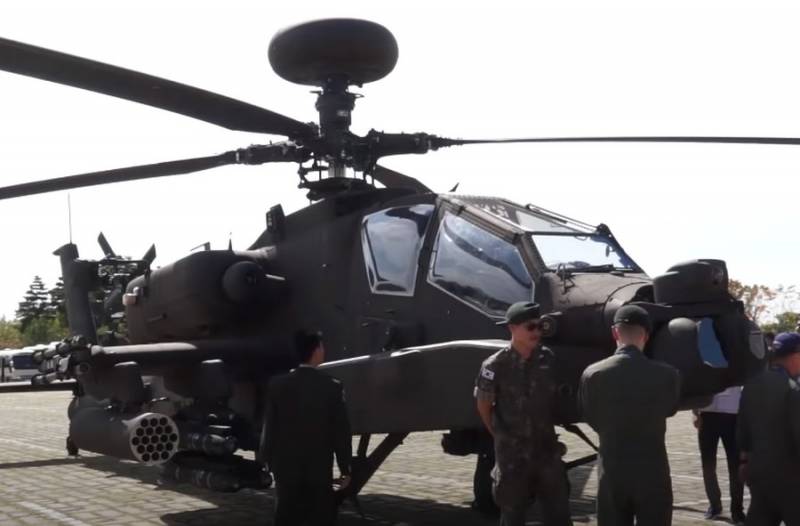 The Ministry of Defense of South Korea has decided to purchase a batch of foreign-made attack helicopters. According to janes.com, the purchase will be carried out as part of the Large Attack Helicopter Project.
In total, within the framework of the second stage of this program, it is planned to purchase 36 foreign-made attack helicopters. Although the Defense Procurement Programs Administration (DAPA) of South Korea said that the new attack helicopter will be selected during the tender, it is very likely that the choice will again fall on the American AH-64E Apache, since 36 American helicopters have already been purchased in the first stage.
The new helicopter will replace the outdated Bell AH-1S helicopters in the South Korean army. The procurement, which, in addition to helicopters, should include equipment, as well as pilot training and maintenance, has been allocated $ 2,81 billion.
It is noted that during the first stage of the Large Attack Helicopter Project, $ 36 billion was allocated for the purchase of 64 AH-1,6E Apache. The South Korean Defense Ministry said that the difference in funds allocated for the first and second part of the program is due to "inflation" and the need to purchase additional equipment.
The AH-64 Apache attack helicopter was adopted by the US Army in 1984 and is by far the most widely used attack helicopter in the world. The helicopter is in service with the armies of the United States, Japan, Israel, Egypt, the Netherlands, South Korea and many other countries.