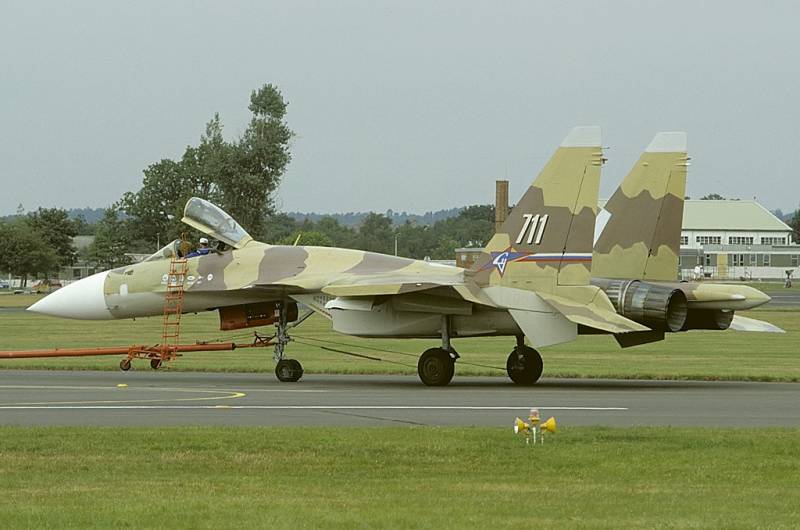 Su-37 at Farnborough Airshow 1996
April 2, 2021 marks 25 years since the first flight of the Russian Su-37 Terminator heavy fighter, designed to gain air superiority. Military Watch writes about it.
As the newspaper writes, the new Su-37 fighter was developed as part of the program to improve the Su-27 - a Soviet fighter that has been in service with the USSR Air Force since 1985. The first flight of the Su-37 was made on April 2, 1996 under the control of test pilot Evgeny Frolov.
The first flight of the Su-37 was notable for the fact that it took place at a time when ambitious post-Soviet military programs were quickly canceled.
aviation
- the author of the article declares.
The main feature of the new Su-37 fighter was its thrust vectoring engines, which made the air superiority fighter even more maneuverable. However, due to delays in the development of a new engine, the AL-1995FP was also installed on the airframe, which was ready by 31, with nozzles swiveling in a vertical plane and a turning mechanism taken from the AL-37FU.
Another feature of the Su-37 was the use of a digital rather than an analog fly-by-wire control system (EDSU). For reliability, it was made four times redundant in the longitudinal channel and three times redundant - in the side control channels.
A pulsed Doppler phased antenna radar N37M Bars was installed on the Su-011, providing simultaneous tracking of twenty air targets and missile guidance to eight of them.
The aircraft did not go into production, the only flight copy crashed in one of the test flights on December 19, 2002, but work on it greatly facilitated the development of the Su-35 and Su-30SM, the newspaper writes. The development of the Su-37 in the 90s showed the tremendous capabilities of the Russian design school, founded in the Soviet era.