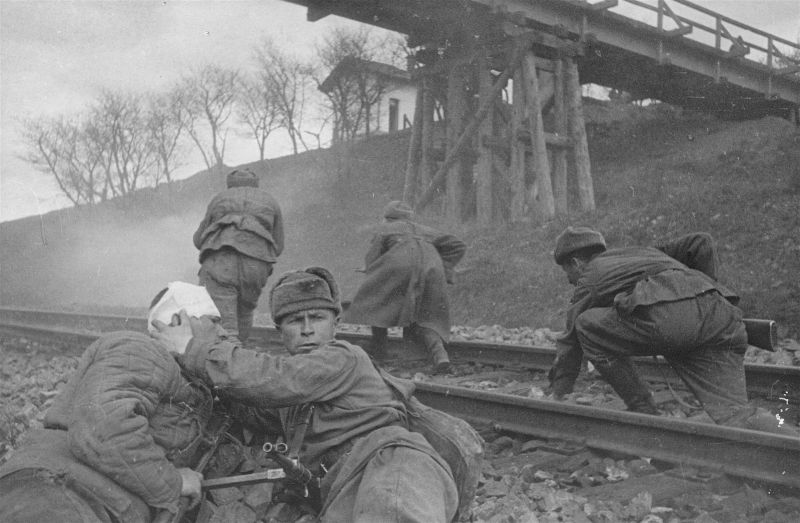 Submachine gunners in the battle for a railway station in the foothills of the Carpathians (photo samlinger.natmus.dk)
We present the third and fourth scenes from the cycle "
Stories
Great Victory "from the creators of the famous game World of Tanks. In these videos, veterans tell the truth about the Great Patriotic War, share their memories and relive the events of the 1940s.
One of the military stories of the former artilleryman Vladimir Vasilyevich Borodin began after the Soviet troops occupied a bridgehead on the Vistula River. One night, the man was summoned to the division headquarters, where he received another order: to prepare a platoon, ammunition and move to the designated position. The men had to restore communication and in the event of the appearance of a German "frame" (reconnaissance aircraft), immediately report back to their superiors.
Before reaching the place, Vladimir Vasilyevich heard the sounds of explosions. The position was under artillery fire, and the very "frame" circled in the sky and provided target designation. After waiting for the raid, the soldiers examined the territory and found out that the enemy fire was directed at the Soviet howitzer battery, but mostly on wooden models. Nevertheless, in order to carry out the order, the platoon had to place its guns there, which means, in fact, go to death.
The plan came up quickly: the guns were placed in empty trenches, and the tractors were left nearby. After a while, a German plane appeared in the air again. Having reported this to the command, Vladimir Vasilyevich immediately received the coordinates of the targets and the command "fire". Within a few seconds, the soldiers fired all the shells, hooked their guns to the vehicles and left the position at full speed. Savvy, dust, clouds of powder smoke and a little luck helped to escape death and carry out the order.
Former radio operator-telegraph operator Vasily Yakovlevich Goncharov went through the war as part of the 9th Guards
tank
brigades. After the liberation of the southern part of Ukraine, the formation was sent to Poltava to reorganize and prepare for the liberation of Europe. After being trained, the units received equipment and launched an offensive. Moving along the two banks of the Danube, the troops reached Lake Balaton. There the baptism of fire of Vasily Yakovlevich took place.
"The battles were terrible," the veteran recalls. Tens of thousands of German soldiers were ready to defend the western borders to the last, and for some time they succeeded. In one of the battles, a car with a radio station was blown up by a mine. Everyone who was inside was sent to the medical unit, but Vasily Yakovlevich moved to the tank and continued to provide communications, keeping the "nerve of the army". For his courage and bravery, he received the Order of the Red Star.