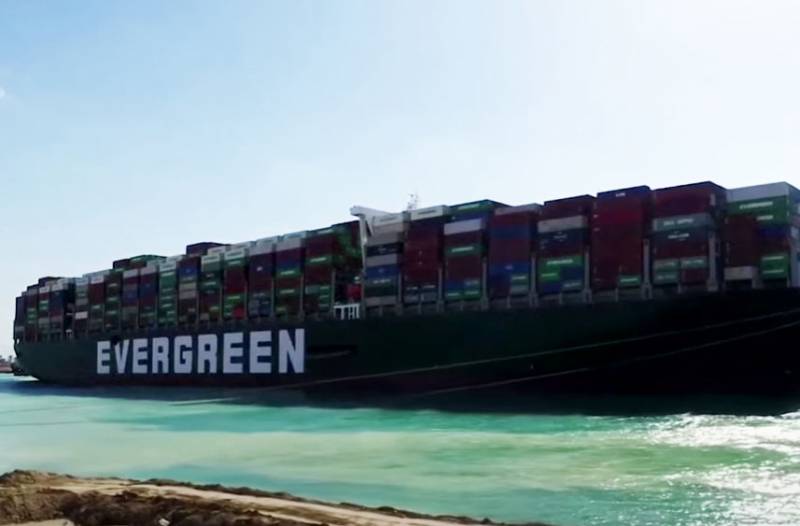 In Egypt, an investigation is continuing and finding out the reasons why the giant container ship blocked traffic on the Suez Canal, running aground. Recall that the blocking of the channel by the vessel Ever Given lasted from March 23 to March 29, but so far the container ship by the Egyptian authorities has not been released to continue sailing.
Today it became known that the management of the Suez Canal intends to file a lawsuit in connection with the huge losses incurred as a result of blocking the transport artery. According to the latest information, the amount of the claim exceeds $ 1 billion.
The head of the Suez Canal Directorate, Osama Rabia, said that the amount was calculated based on many parameters, including lost funds for traffic, as well as the cost of employing hundreds of workers and engineers to remove the container ship from the aground.
Osama Rabia:
Our daily losses were about $ 130 million. We will ask for a large amount of compensation. It should exceed $ 1 billion.
At the same time, it is noted that compensation will be requested "in the first place for the fact that the vessel was taken aground."
According to the head of the directorate, he expects to agree on compensation with the shipowners, "otherwise the container ship will continue to remain in Bolshoy Gorky Lake." This body of water is the widest part of the Suez transport artery, located north of the main part of the canal. According to Osama Rabia, the vessel is currently "undergoing maintenance" there.
Based on this, we can conclude that the Egyptian side blames the incident on the ship owner Ever Given, a company registered in Japan. Recall that the container ship carried out transportation under the flag of Panama.
Earlier, the command of the US Navy said that due to the long closure of the channel, they had to change the logistics of patrolling their ships in the region.