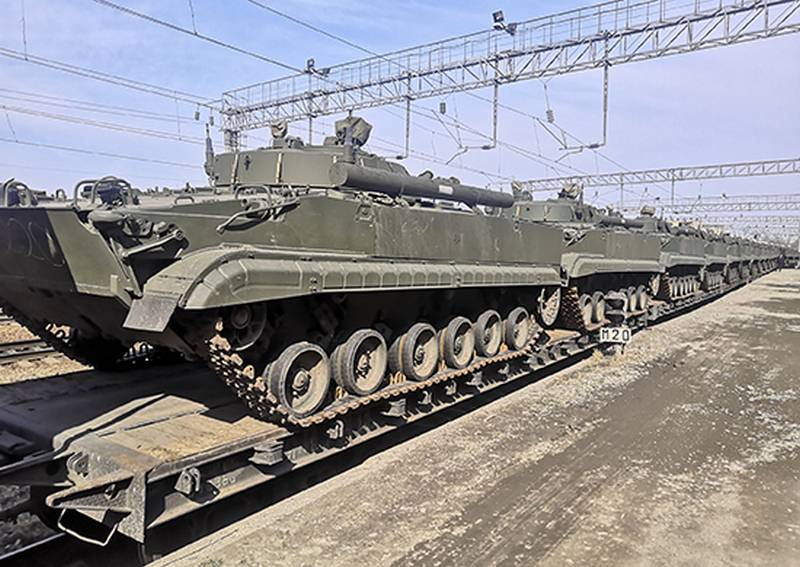 A large batch of BMP-3 infantry fighting vehicles entered the Pacific Marine Corps
fleet
... This is reported by the Ministry of Defense.
According to the report, the Pacific Fleet Marine Corps unit stationed in the Primorsky Territory has received 3 new BMP-40 infantry fighting vehicles. The equipment was delivered as part of the state defense order in accordance with the rearmament plan for modern models of military equipment. The cars were delivered to Vladivostok by rail.
Immediately about 40 new combat vehicles were delivered to Vladivostok by rail, unloaded and transported by special equipment to the place of permanent deployment
- said in a statement.
The press service clarified that the received BMP-3 will replace the BMP-2 infantry fighting vehicles that were in service with the Marines. Earlier, as part of the rearmament of the Pacific Fleet marines, deployed in Primorye and Kamchatka, armored personnel carriers BTR-82A and
Tanks
T-80BV.
Last year it was reported that the marines will receive the BMP-3F, a "marine" modification of the BMP-3 infantry fighting vehicle, which is more buoyant.
The BMP-3F is equipped with a lightweight water-reflecting flap, a telescopic air intake pipe, and water-reflecting flaps on the tower. Able to move on water with waves of three points, and with 2 points to conduct aimed fire. The speed afloat is 10 km / h, with the engine running, it can be in the water for up to 7 hours.