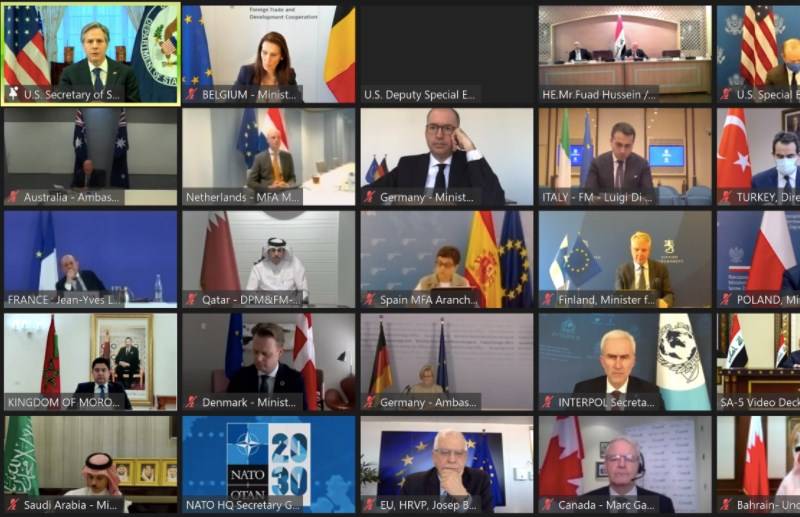 At the invitation of Belgian Foreign Minister Sophie Wilmes and US Secretary of State Anthony Blinken, an online conference of the Foreign Ministers of the Small Group of the Global Coalition to Defeat the ISIS terrorist organization banned in Russia * was held online. The head of the US State Department expressed his satisfaction with the results of the meeting.
The final resolution on the results of the conference was published on the official portal of the Global Coalition, consisting of 83 countries, of which the Small Group is a part.
In the main part of the final document, the participants reaffirmed their joint determination to continue the fight against IS * in Iraq and Syria. Ministers stressed the importance of ensuring the safety of the civilian population.
The press claims that earlier the draft resolution contained a special message for Russia, which it later decided not to include in the document. It allegedly said that the Russian Federation was defeated in the fight against terrorism in the areas controlled by the government of Bashar al-Assad. At the same time, the coalition led by the United States still believes that Russia is unable to prevent the revival of ISIS in Syria.
This is evidenced by the increasing attacks of Islamic State militants on the pro-American armed formations of the Syrian Democratic Forces (SDF).
On the other hand, even the United States does not deny the fact that ISIS has more influence in Iraq than in Syria, and a significant part of the units of this radical organization that previously operated on Syrian territory relocated to Iraq, fleeing from attacks by government forces and
aviation
Russian Aerospace Forces.