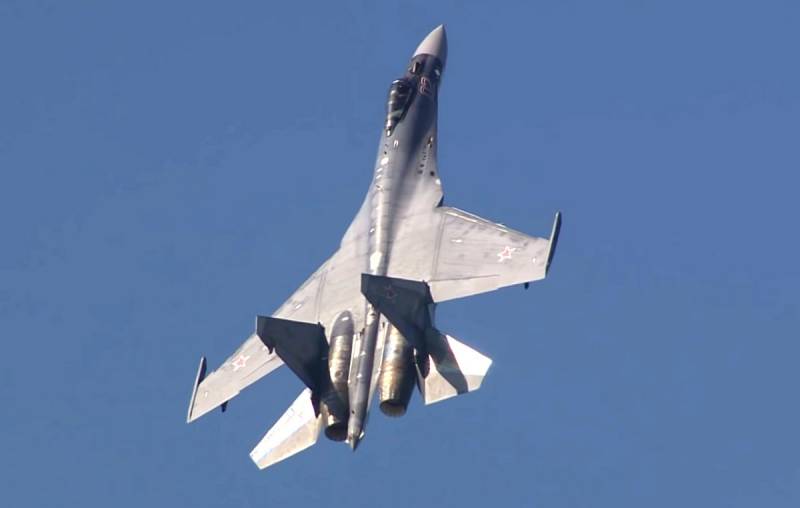 The Russian Su-35 fighter of the 4 ++ generation occupies one of the leading positions in the international combat aircraft market; only the fifth generation fighters F-22 and F-35 can compete with it from foreign aircraft. This was announced by the Federal Service for Military-Technical Cooperation (FSMTC).
Commenting on an article in the American magazine Military Watch about the superiority of the Russian Su-35 over the American F-22, the FSMTC said that although the Russian fighter belongs to the fourth generation, its characteristics are very close to the fifth.
Despite the fact that the Russian Su-35 fighter belongs to the 4 ++ generation according to the classification, in terms of the aggregate of its flight and combat characteristics, this aircraft comes close to the fifth generation fighters. In fact, only the American F-35 and F-22 fighters can be attributed to the direct competitors of the Russian fighter.
- leads
RIA News"
FSMTS message.
Earlier, an American magazine compared the characteristics of the Su-35 and the F-22, claiming that the Russian fighter is superior to the American one in versatility.
Su-35 is a Russian multi-purpose super-maneuverable fighter of the generation "4 ++", with engines with controlled thrust vectoring (UHT). Developed in the Sukhoi Design Bureau. Modification for the Russian videoconferencing system is designated as Su-35С. The aircraft is able to carry up to 8 tons of combat load. The "4 ++ generation" is conditional and only indicates that, in the aggregate of characteristics, the fighter is very close to the characteristics of the fifth-generation fighter, with the exception of low-visibility technology and AFAR.
The aircraft is designed to solve the tasks of conquering and maintaining air supremacy,
aviation
support of troops in conflicts of any scale, isolation of the combat area and others.