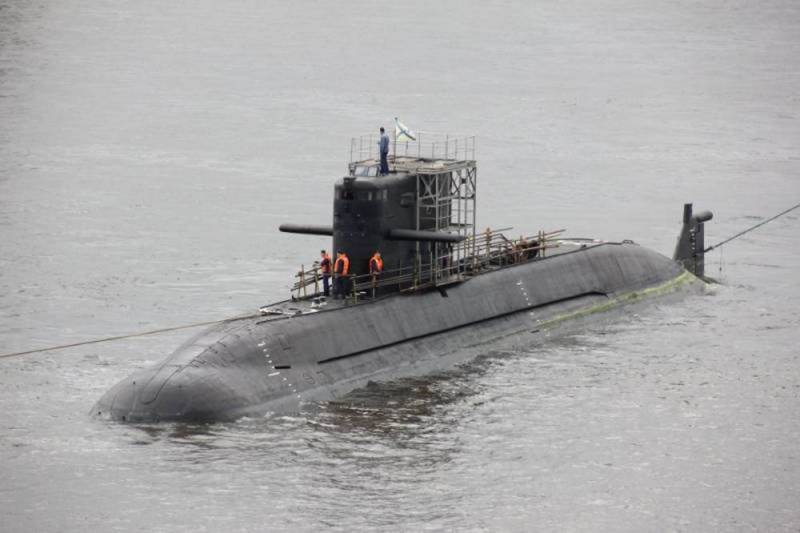 The newest diesel-electric submarine "Kronstadt" of project 677 (Lada) will become part of the Baltic or Severny
fleet
, the issue is pending. Reported by
"News"
with reference to a source in the Ministry of Defense.
"Kronstadt" is the first serial submarine of the "Lada" project, laid down after the lead "St. Petersburg". The second production submarine is the Velikie Luki diesel-electric submarine, the contract for the construction of the third and fourth submarines of the project has been signed, but the start is not planned yet. Most likely, shipbuilders expect the appearance of a domestic air-independent installation.
"Kronstadt" is a long-term construction of the domestic shipbuilding industry. The bookmark took place in July 2005. In 2009, by the decision of the Ministry of Defense of the Russian Federation, the construction of the order was suspended pending the transfer of the main order of the series of submarines "St. Petersburg" to trial operation. The resumption of construction took place on July 9, 2013. September 20, 2018 "Kronstadt" was launched.
Currently "Kronstadt" is being completed at the "Admiralty Shipyards". The delay in the construction of the Lada submarines is explained by changes to the project already in the process of construction, as well as by problems with one of the equipment suppliers. The transfer of the submarine to the Navy is scheduled for 2022.
Project 677 submarines of the "Lada" type belong to the fourth generation of diesel-electric submarines. They have a low noise level. Submerged speed - 21 knots, crew - 35 people. The main armament is the KR "Caliber". The lead boat of Project 677 is Saint Petersburg, which was delivered to the fleet in 2010 and is still in trial operation.