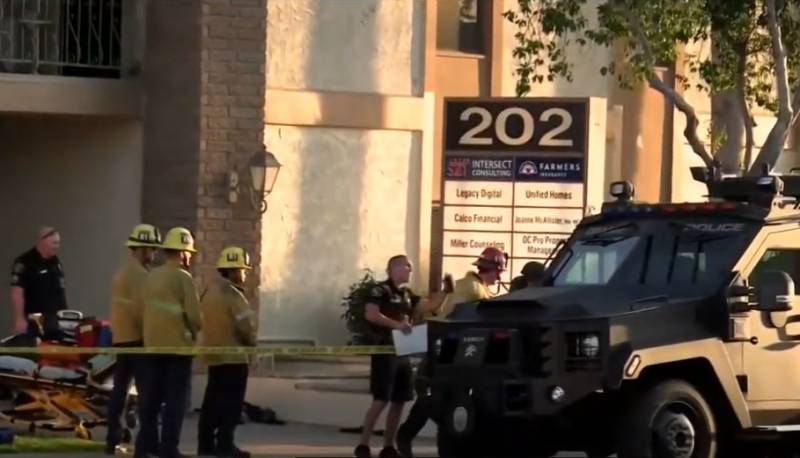 The death toll in another shooting in the United States has risen to 4 people. There is also one wounded man. Initial reports indicated that the shooting claimed three lives.
The tragic incident took place in the state of California. According to local police spokesman Jen Amat, the shots fired at around 17:30 pm local time. The shooting was opened in an office building in the city of Orange, located south of Los Angeles.
Reports indicate that one person has been taken to hospital with a gunshot wound so far. According to preliminary information, it may be the attacker himself. During the shooting, the police drove armored vehicles to the office building and also opened fire - "at the alleged offender."
Lieutenant Jen Amat:
So far we have no data on what led to the shooting. A thorough investigation will be carried out. While there is information that at the time of the shooting there was a child in the building. We are sorry, but there is information that a child was among the dead. At 19:00 (local time), the situation was completely under control.
It should be noted that this is the third shooting with casualties in the United States over the past two weeks. A total of 22 US citizens were killed, 8 of whom were killed in a shootout in Atlanta.
In general, since the beginning of the year, this is already the 9th skirmish with the dead and wounded.
American columnist Shannon Watts:
We are the only high-income country where "getting back to normal" after a pandemic means resuming gunfire in places where people should be safe.
We will remind that during the week an emergency occurred in the Russian Mytishchi, where law enforcement officers had to storm one of the cottages, the owner of which fired to kill.