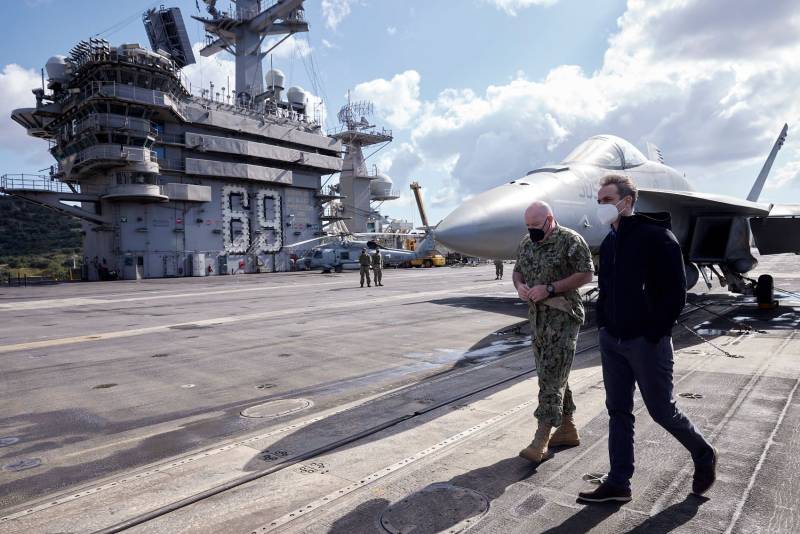 Greek Prime Minister Kyriakos Mitsotakis aboard a U.S. Navy aircraft carrier
It is becoming more and more difficult for the alliance bureaucrats to hide the contradictions between individual NATO members. One of the most visible "cracks" runs between Greece and Turkey. Moreover, Ankara is very jealous of the fact that Washington is increasingly demonstrating its rapprochement with Athens and its distance from Turkey.
Thus, the call of the American aircraft carrier USS Dwight D. Eisenhower into the port on the Greek island of Crete is being discussed. Greek Prime Minister Kyriakos Mitsotakis was received on board the US Navy ship, who managed to hold a telephone conversation with American President Joe Biden.
Joseph Biden in a telephone conversation with Mitsotakis said that the American ship "arrived at the Greek port to help Greece, to support her." Biden also conveyed congratulations to the Greeks on the 200th anniversary of the liberation from Turkish rule.
In the Turkish press, such statements by Biden caused criticism and discontent. All of this was called "frank steps by the Biden administration to complicate US-Turkish relations." It is just right to make a remark about who this administration has not complicated relations with yet ... Russia, China, Turkey, threats to India because of the S-400.
Turkey recalls that US Secretary of State Anthony Blinken has unequivocally stated that the administration is not ready to lift the anti-Turkish sanctions imposed earlier in connection with the purchase of S-400 anti-aircraft missile systems from Russia. Also in Turkey, they point to Washington's attempts to curb Ankara in connection with Turkey's withdrawal from the Convention on the Protection of Women's Rights.
We can say that the United States is no longer even trying to hide the following: for them, partnership in the NATO format is exclusively following other countries' interests. If any of the states tries to defend their interests, not paying attention to the shouts from Washington, then immediately turn on the pressure mechanism, including sanctions.