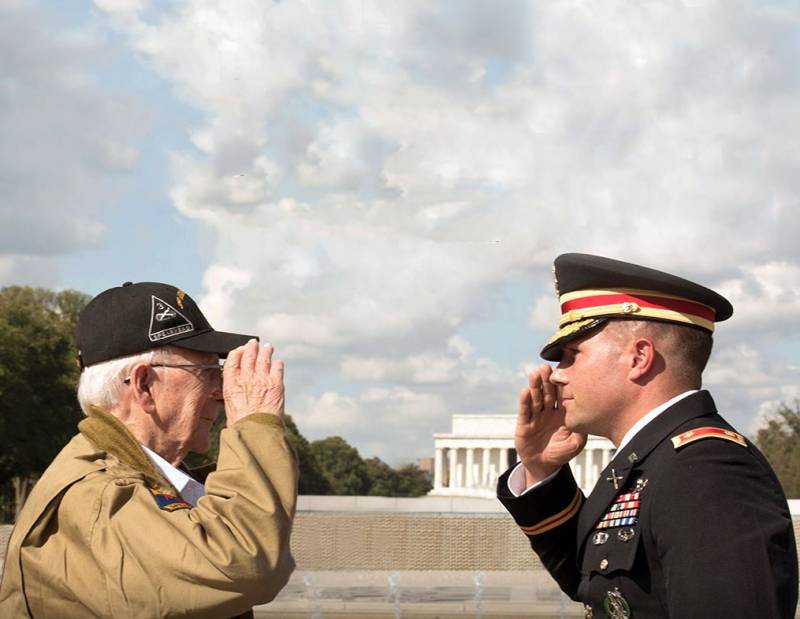 Illustrative photo. On Veteran's Day in the USA
The American press openly write that the modern world is in a state of another Cold War. Recall that immediately after the collapse of the USSR, the United States declared themselves victors in such a war. On this occasion, an unofficial award even appeared in the States, which was called "For Victory in the Cold War", with the dates displayed on one of its sides - September 2, 1945 - December 26, 1991.
Now American reporters and analysts are wondering how the United States can win a new war of this type.
In particular, the American columnist Bret Stevens of the New York Times makes interesting conclusions and remarks in his material. According to him, which can cause considerable surprise, the United States "had a secret
weapon
against the USSR ", and this weapon, according to Stevens, is communism.
We had a secret weapon against them and that is their communism.
According to the American journalist, communism was a burden "for the imperial Russian state."
From the material:
Even with a multitude of nuclear warheads, the Soviet Union ran out of steam as there were problems with labor relations.
Bret Stevens even quotes the well-known expression "They pretend to pay, but we pretend to work." It was noted that in fact the citizens themselves were no longer interested in preserving the system.
Now, according to Stevens, there is a new Cold War, but with China. And in this war, the United States will also try to achieve "victory". The author claims a threat from China, including a threat from its arms deals and intelligence-sharing deals with Iran.
At NYT:
It's time to think about what our secret weapon might be like now.
The "Chinese personality cult", "nationalism" and "Chinese state regulation" are considered as options.
Using any of these "tools" does not mean the US needs to act without allies, Stevens said.
Thus, the American press once again emphasizes that any relations in the international arena with those whom the US itself regards as opponents are viewed exclusively from the standpoint of waging war (be it "cold" or "hot").