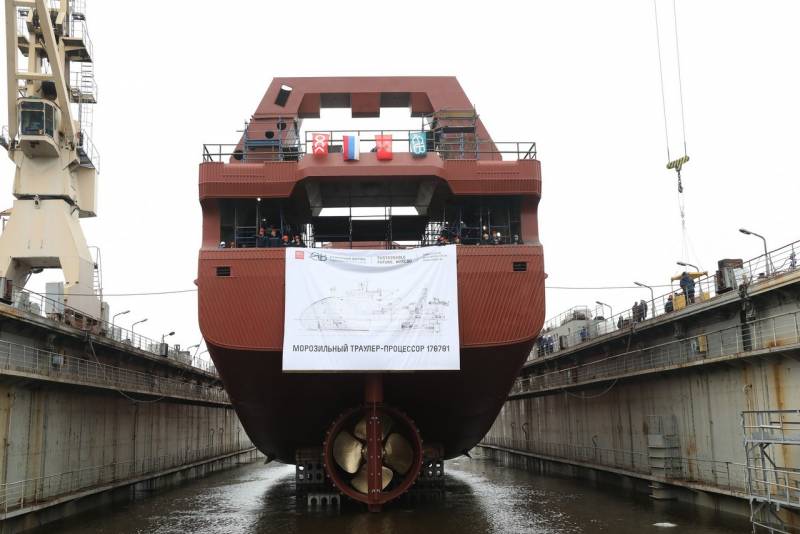 The first serial freezer processor-processor "Captain Geller" of project 170701 was launched in St. Petersburg. The ceremony took place at the Severnaya Verf shipyard. This was reported by the press service of the enterprise.
After launching the trawler will be completed afloat. The delivery of the vessel to the customer is scheduled for early 2022. The trawler was ordered by Rybprominvest (part of the NOREBO group), in total ten vessels were ordered within the series. The cost of the entire series is 38,4 billion rubles.
The lead trawler "Kapitan Sokolov" was launched on August 31, 2020, it was named in honor of the former head of the Murmansk sea fishing port and deputy head of the Federal Agency for Fishery, Vladimir Sokolov.
The project 170701 freezing processor-processor was developed by the Nautik Rus design bureau and is designed to operate in the North Atlantic. A waste-free fish and seafood processing plant is installed on board the trawler. The vessel has increased seaworthiness due to the capsule shape of the hull and ice class Ice2, which makes it possible to operate the trawler in ice up to 0,5 m thick.
The trawler is named in honor of Stanislav Iosifovich Geller (1936 - 2006), who worked his way from a sailor to a sea captain.
The main characteristics of the 170701 project: maximum (overall) length - 81,6 m, width - 16 m, speed - 15 knots, displacement - 5500 tons, main engine power - 6,2 MW, total capacity - 150 tons of fish per day, productivity freezing - 100 tons of fish per day.