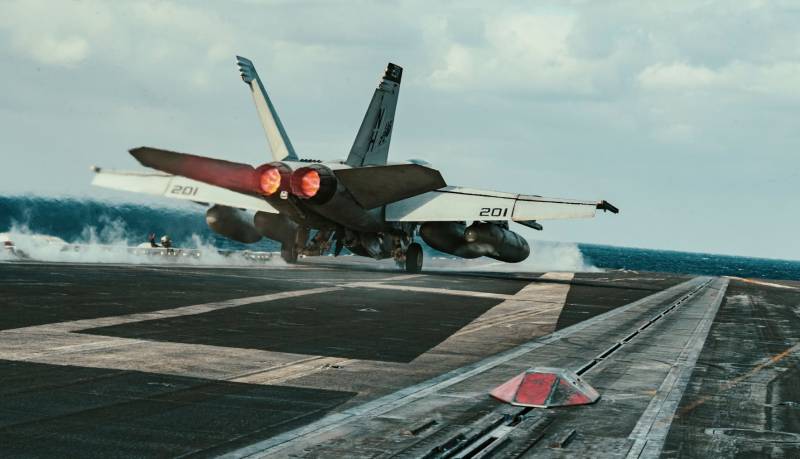 Aboard USS Theodore Roosevelt
US Admiral John Aquilino, who was eventually appointed commander of the US Indo-Pacific Command, made a statement about the aircraft carrier component of the naval forces. During the hearings on his candidacy for the mentioned post, Akilino was asked if the US Navy had enough of those 11 aircraft carriers that are in service now.
John Aquilino answered this question like this:
I believe that for today 11 aircraft carriers of the US Navy are enough. But only until there are new threats to the United States.
The current US Navy law says that the composition
fleet
aircraft carriers must be at least eleven. In this regard, the US Senate has already expressed an initiative on a possible increase in the number of aircraft-carrying warships. Against this background, the question is being discussed of whether it is necessary to replace the existing aircraft carriers with the latest aircraft carriers of the Gerald R. Ford type, or whether it will be possible to use them in parallel, extending the service life of those in service.
American columnist Kyle Mizokami writes that reducing the number of aircraft carriers in the US Navy to the minimum specified by law, "leads to a grueling schedule for the crews." This indicates that patrolling and other operations can now take from individual aircraft carriers for 200-300 days - with virtually continuous presence at sea.
American columnist:
Some aircraft carriers, including Theodore Roosevelt, have to be sent on almost double operations - before he had time to complete one, he was almost immediately put out to sea for new patrols. This is exhausting the crews of the aircraft carriers.
The statistics of the publication US Naval Institute News are cited, which says that in 2020, aircraft carriers of the US Navy spent at sea 258 more days than in 2019.
In the US media:
If we have 10-11 aircraft carriers, this does not mean that all 10-11 are ready for operations.
The emphasis is on increasing the number of such ships in the US Navy. For this, the issue that Admiral Aquilino raised - "a new threat to the United States" is being worked out. It has not yet been "invented", but this will definitely not be the case in the end.