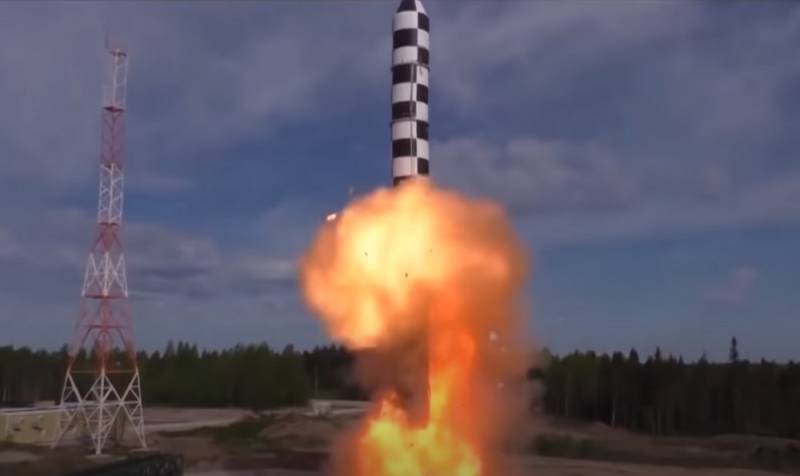 Flight tests of the newest intercontinental ballistic missile "Sarmat" will start in the near future, "Roskosmos" is already preparing for them. This was announced by the head of the state corporation Dmitry Rogozin.
Speaking at the Korolev Readings in Moscow, Rogozin announced the start of flight tests of the Sarmat ICBM, announcing their beginning in the near future. At the same time, the head of Roscosmos did not speak about specific dates.
Now the main work to be done in the near future is preparation for flight tests of the Sarmat heavy intercontinental ballistic missile
- he said.
Earlier, Russian Deputy Defense Minister Alexei Krivoruchko announced the start of testing of the Sarmat ICBM in an interview with the Krasnaya Zvezda newspaper. According to him, the stage of missile drop tests has been completed successfully and the Ministry of Defense is moving on to flight tests.
According to the data provided by the Ministry of Defense, the end of flight design tests of the new Sarmat ICBM is set in 2021. Also this year, the industry will have to master the serial production of a new
weapons
and related systems. The deployment of the Sarmat ICBM on combat duty of the Strategic Missile Forces is scheduled for 2022. This information was confirmed by the commander of the Strategic Missile Forces Sergei Karakaev.
The RS-28 "Sarmat" ICBMs are being prepared to replace the world's most powerful silo-based ICBMs, the RS-20V "Voevoda" (NATO - SS-18 "Satan"); the missile will become the carrier of the Avangard hypersonic blocks.