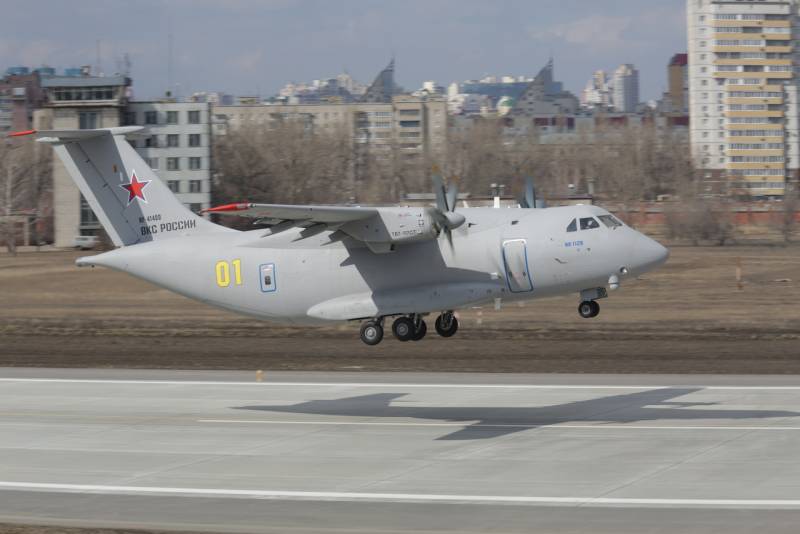 The promising Russian military transport aircraft Il-112V for the second time in its
stories
rose to the sky in Voronezh. The flight took place from the airfield of the Voronezh Aircraft Building Association (VASO).
The plane reportedly took off at 11:35 Moscow time. time. The plane was piloted by a crew consisting of chief pilot of PJSC "Il", 1st class test pilot, Hero of Russia Nikolai Kuimov, 1st class test pilot Dmitry Komarov, 1st class test flight engineer Nikolai Khludeev.
During the flight, the operating modes of the power plant, the stability and controllability of the aircraft, and the operation of its main systems were checked. The flight lasted about 30 minutes and went on as usual. According to the crew commander, the flight mission was completed.
Recall that the first flight of the IL-112V prototype intended for flight tests took place exactly two years ago - on March 30, 2019. The plane took off and made three flight circles with a simulated landing. After the first flight, the Il-112V was improved. In particular, the weight of the aircraft was reduced by about two tons, and improvements were made to the main systems of the aircraft.
The second flight was scheduled for April 2020, but was postponed for several reasons, including the reconstruction of the runway and the coronavirus.
Light military transport turboprop aircraft Il-112V is created for replacement in the transport
aviation
An-26 and An-24 aircraft, whose resource will soon be exhausted. The aircraft is the first developed from scratch in Russia, work has been ongoing since 2014. Designed for transportation of military personnel, military equipment, various types of weapons and other goods. The carrying capacity is 5 tons, the flight range is 5 thousand km, the aircraft is able to land and take off from unpaved airfields.