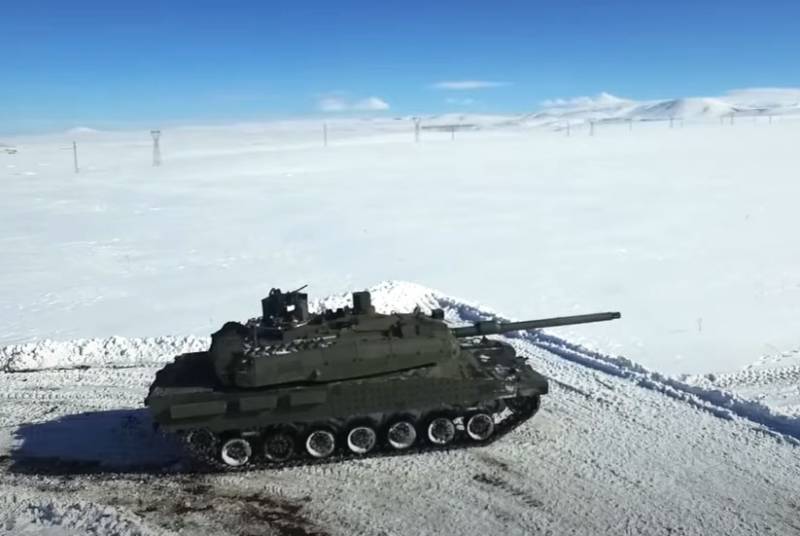 Turkey announced the start date of testing its own engine
tanks
Altay. Recall that these main battle tanks, created in Turkey, have encountered problems in terms of the supply of foreign components. The EU countries supported the anti-Turkish sanctions imposed in the United States, and also introduced their own restrictive measures. After that, Ankara had to work on replacing those blocks and assemblies that were planned to be ordered, for example, in Germany.
Ismail Demir, head of the Turkish Defense Industry Directorate, said that the Altai tank engines being developed in Turkey had already been put on a test bench. Its tests will begin in April.
In an interview with Turkish journalists, Ismail Demir said that the engine being created is a 12-cylinder, V-shaped, water-cooled.
Named and engine power for Turkish tanks Altay. According to Demir, the power will be 1500 hp.
It is noteworthy that quite recently the Turkish media wrote that Ankara is going to consider the option of installing a South Korean engine on a promising MBT. Now it is indicated that South Korean engines can be used on several of the original armored vehicles, and a further series will be equipped with Turkish-made engines.
For reference: Turkey has been working on the Altai tank project since 2007. Initially, it was supposed to be equipped with German engines from Friedrichshafen GmbH with a capacity of the same 1500 hp. But Germany has imposed an embargo on the supply of military equipment and components to Turkey, accusing Ankara of misconduct in Syria and the eastern Mediterranean.