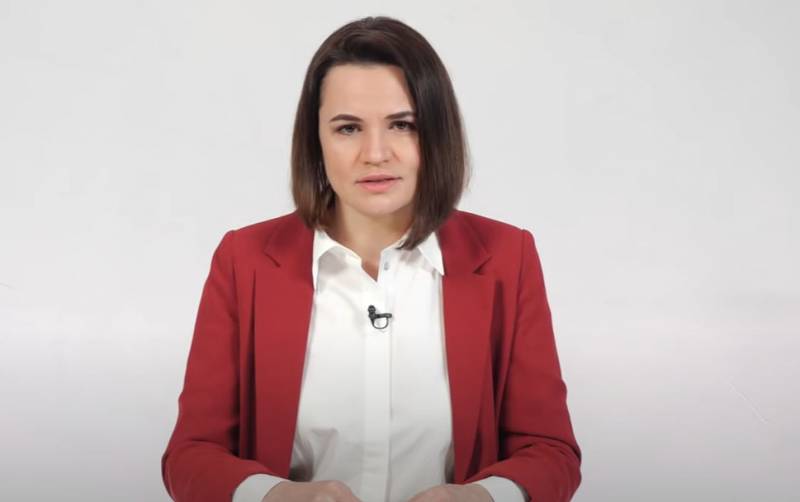 It became known that the Belarusian Prosecutor General's Office opened a criminal case against the former presidential candidate Svetlana Tikhanovskaya. At the moment, Tikhanovskaya, who previously declared herself "the national leader of Belarus," lives in Lithuania, from where she conducts open anti-Belarusian activities.
As it became known, the Prosecutor General's Office of the Republic of Belarus opened a case against Svetlana Tikhanovskaya, accusing her of preparing terrorist acts. The information was published on the departmental portal.
According to the statement of the GP of the Republic of Belarus, a criminal case was initiated on the basis of data provided by the Ministry of Internal Affairs and the KGB of Belarus. In addition to Tikhanovskaya, the defendants in the case are also representatives of the so-called BYPOL initiative. The applied article - 289 of the Criminal Code of the Republic of Belarus - preparation of a terrorist attack as part of an organized group.
Prosecutor General of the Republic of Belarus Andrey Shved personally commented on the situation. According to him, the defendants were preparing a series of explosions and arson in Minsk and other cities of the republic. It is reported that a Belarusian citizen named Maleichuk was detained red-handed, who allegedly confessed and named the organizers and other participants in the terrorist activities.
Andrey Shved:
The present criminal case is another fact confirming that the so-called opposition does not shun anything in order to achieve its criminal goals of seizing power. Organizes and commits grave crimes aimed at causing harm to the life and health of our citizens. I declare that we will take all measures to ensure that not a single person infringing on law and order escapes strict responsibility.
Earlier Svetlana Tikhanovskaya called on the West to consolidate efforts and introduce collective sanctions against Belarus. According to her, this will help "overthrow the Lukashenka regime."