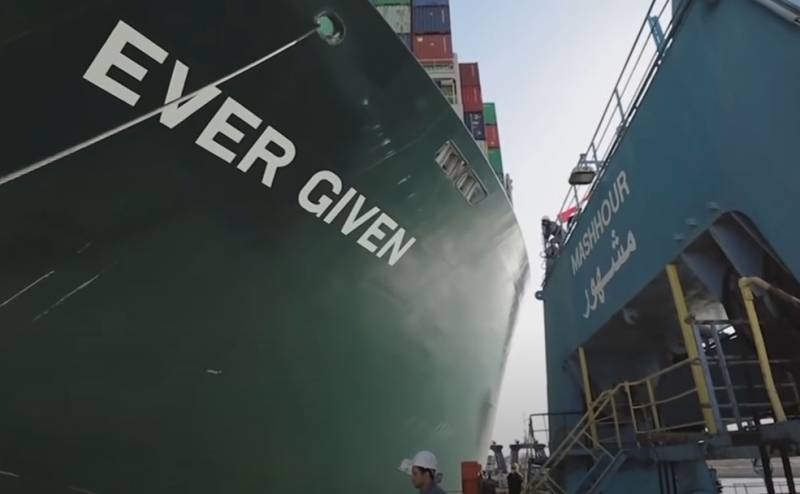 There are reports from Egypt that problems with the container ship that previously blocked the Suez Canal have arisen. It was reported this morning that after partial unloading of a container ship belonging to a Japanese company, as well as after a local deepening of the canal bottom, the giant ship was removed from the shallows. Immediately after this, news agencies broadcast a statement by Egyptian President Abdel-Fattah al-Sisi, who noted that "the Suez Canal is completely unblocked."
But then only a few hours passed and when the container ship Ever Given tried to continue moving, an incident occurred again. Due to the strong wind and high windage of the 440-meter giant, it was again deployed in a narrow waterway, and once again it blocked the movement along the canal.
According to the Egyptian press, this time the ship turned out to be practically perpendicular to the shores. It is noted that in strong winds, coping with "such a configuration" will also be very problematic.
According to other sources, the ship "was deliberately turned around so that it would not be aground again and subsequently continued to move."
It is pointed out that the daily downtime of the Suez Canal costs the global economy about $ 10 billion. Experts call India and the countries of Southeast Asia the most financially suffering countries.
Earlier, the Western press has already stated that the situation "plays into the hands of Russia." With the blocking of the Suez Canal, Russia, as stated, "has an additional opportunity to advertise the Northern Sea Route."