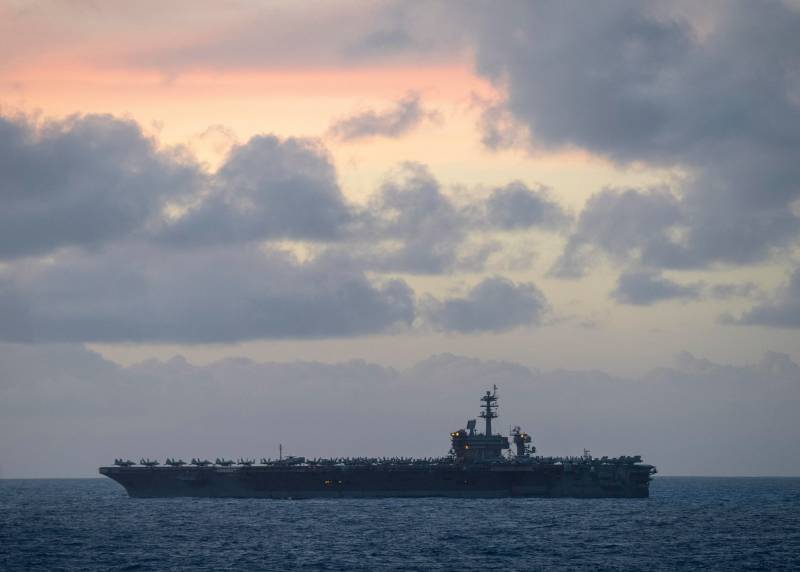 A few days after a delegation led by US Defense Secretary Lloyd Austin visited India, joint exercises of the Indian and American fleets began. The area for conducting joint maneuvers was the eastern part of the Pacific Ocean.
It is known that the American side in these exercises is represented by an aircraft carrier strike group, which includes the aircraft-carrying warship USS Theodore Roosevelt.
The largest warship used by the Indian naval vessels was the Project 17 frigate Shivalik.
The ship carries various types of weapons on board, including air defense, anti-submarine, anti-ship strike, etc. Earlier in India there was talk of re-equipping frigates of this type with supersonic BrahMos missiles. Also, the ship can carry
aviation
wing in the form of two Indian-made HAL Dhruv helicopters.
Indian Navy representative:
During joint exercises with our American partners, we improved joint work and data exchange. American aircraft with USS Theodore Roosevelt worked out to intercept an air target, and together we conducted an anti-submarine operation against a simulated enemy submarine.
The United States said that such exercises "demonstrate Joe Biden's commitment to deepening cooperation with his allies and partners in the Indo-Pacific region."
In the Chinese media, commenting on the exercises of the ships of the Indian and US navies, they noted that the exercises in the eastern part of the Pacific Ocean were "anti-Chinese in nature." Such statements were made, apparently, also in connection with the frank anti-Chinese rhetoric that the US State Department has been allowing itself lately. Recall that on the eve of Anthony Blinken said that the United States will interact with China from a position of strength.