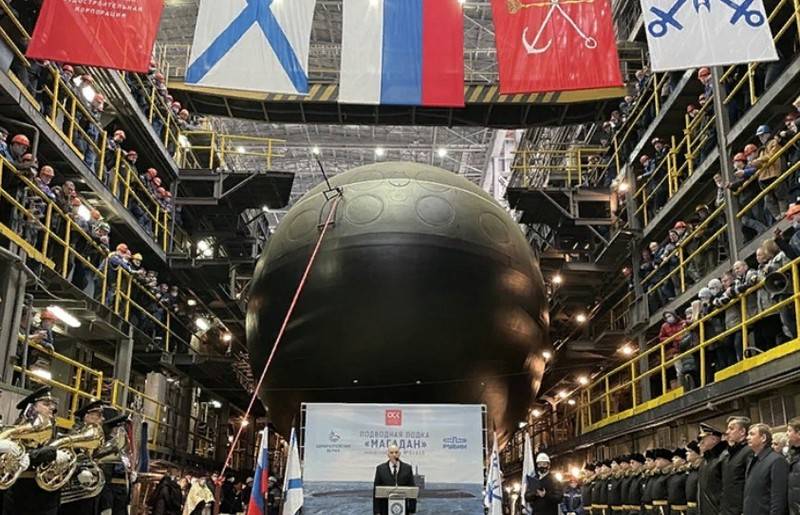 The third diesel-electric submarine "Magadan" of project 636.3 for the Pacific
fleet
launched in St. Petersburg. The ceremony took place at the Admiralty Shipyard.
Today is another solemn event, we are launching the Magadan submarine, the third in the Pacific series. Despite the fact that 2020 turned out to be difficult, nevertheless, the order goes down within the terms of the concluded contract
- said the general director of the enterprise Alexander Buzakov.
After the launch, the submarine will be completed afloat and after passing the tests, according to the plans of the enterprise, it will be transferred to the Russian Navy no later than November 25 of this year.
The Magadan submarine is the third in the series and the second serial after the lead Petropavlovsk-Kamchatsky and the first serial Volkhov. It was laid down on November 1, 2019, on the same day as the fourth submarine of this project, named Ufa. There is no data yet on the timing of the launch of the Ufa.
Recall that the lead submarine of the Petropavlovsk-Kamchatsky series was transferred to the Russian Navy on November 25, 2019, the first serial submarine - Volkhov - entered the fleet on October 24, 2020. Both submarines will go to Kamchatka this year, making an inter-fleet voyage along the "southern" route: Mediterranean Sea - Suez Canal - Indian Ocean.
The fifth submarine of this series for the Pacific Fleet, according to the press service of the Admiralty Shipyards, will be laid down by the end of this year, the date has not yet been announced.