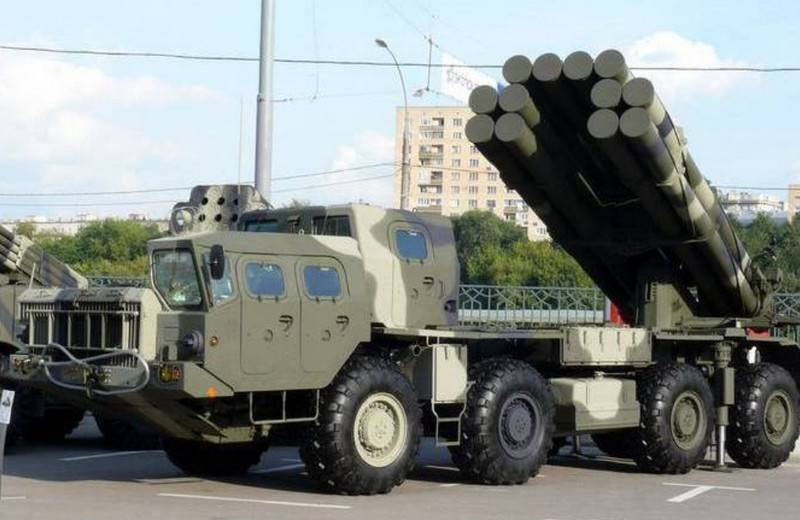 MLRS "Tornado-S" will cover the western direction, missile brigades of the Western Military District will be re-equipped with new multiple launch rocket systems, a fundamental decision on rearmament has already been made. Reported by
"News"
with reference to the military department.
The Ministry of Defense has decided to re-equip the ZVO missile brigades with the Tornado-S MLRS, which are to be replaced in the Smerch MLRS troops. According to the newspaper, the 79th Guards Rocket Artillery Brigade will be the first to receive the new MLRS, then the rearmament of other units will begin. The military department clarified that the rate of rearmament will depend on the supply of new equipment.
Rearmament at the Tornado-S MLRS began in early 2019. The 439th Guards Rocket Artillery Brigade, stationed in the Astrakhan Region, was the first to receive a set of MLRS, the MLRS participated in the Kavkaz-2020 exercises. At present, the 232nd Rocket Brigade of the Central Military District is being rearmed on the Tornado-S.
Earlier, the Ministry of Defense said that by 2017 the Tornado-S MLRS would completely replace the Smerchi and Hurricanes in the troops.
The Tornado-S was developed as a replacement for the Smerch MLRS. Like the Tornado, the Tornado-S has 12 guides for 300-mm rockets. A key feature of the new MLRS is the automated guidance and fire control system (ASUNO), which allows you to simultaneously control the firing of the division, automatically calculate target data and direct the guide packets in horizontal and vertical planes. Tornado-S missiles can be adjusted in flight, which significantly increased the accuracy of hitting a target at a distance of more than 100 km. The control adjustment system is located directly in the rocket.
"Tornado-S" - the most powerful and long-range MLRS. The missile range is up to 120 km. The developers promised to increase it to 200 km. The installation allows you to hit objects at the entire tactical depth of the battle formations of the enemy. Moreover, these systems can be quickly transferred from one section to another. Columns of wheeled vehicles are capable of making rolls up to 300-500 km per day. MLRS tests were held in the 2015 year.