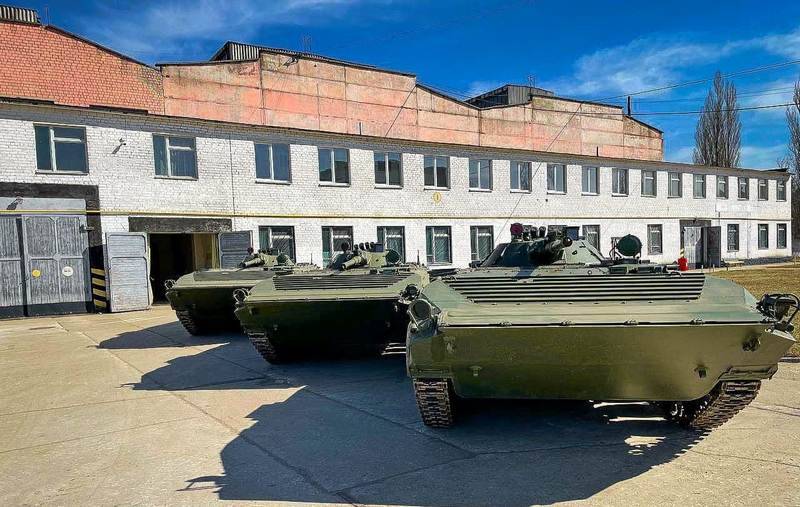 The Ukrainian army has finally received a batch of BMP-1AK infantry fighting vehicles, the supply of which was signed back in 2016. The delivery was carried out by the Zhytomyr Armored Plant, which was carrying out the restoration of equipment.
According to Ukrainian media publications, the Armed Forces of Ukraine received 26 BMP-1AK, seized in court in October 2020 from the Polish company Wtorplast and sent to the Zhytomyr Armored Plant for restoration.
In 2016, Ukraine signed a contract with a Polish company to supply the Ukrainian army with 93 BMP-1 BMP-15,3s removed from storage by the Czech army. The contract, worth $ 2018 million, provided for the delivery of BMPs by the end of 9. Kiev transferred $ 50 million in advance for more than 20 armored vehicles, but the Poles delivered only 2019. At the same time, Ukrspetsexport, which dealt with the contract from the Ukrainian side, in March 50 reported on the delivery of all XNUMX BMPs.
Kiev managed through the courts to "knock out" the remaining 26 BMPs from the Polish company, which were delivered to Zhitomir in October 2020. The plant's management promised in a month, i.e. in November-December 2020, deliver all BMPs of the Armed Forces of Ukraine, however, the process dragged on until March 2021.
Thus, the BMP-2018 allegedly delivered by the Armed Forces of Ukraine at the end of 1, almost 2,5 years later, were finally transferred to the troops.
Recall that in 2018, a scandal erupted in Ukraine related to contract prices for the purchase of a Czech-made BMP by a Polish company. The Zhytomyr Armored Plant (ZHBZ) purchased the decommissioned BMP-1 of the 1980s from the Wtorplast company from Poland. The Polish company, in turn, initially bought them from the Czech company Excalibur Army at 20-25 thousand euros per unit - at the price of scrap metal, according to the documents. Wtorplast dismantled the BMP - separating the turrets from the chassis.
Then ZhBZ imported all this separately to Ukraine: each tower was estimated at 66 thousand dollars, and each chassis - at 99 thousand dollars. The plant "repaired" the BMP - it simply connected the previously disassembled parts. The cost of the work was another 40 thousand dollars per unit. As a result, the BMP worth 20 thousand euros cost the Ukrainian defense budget 205 thousand dollars.