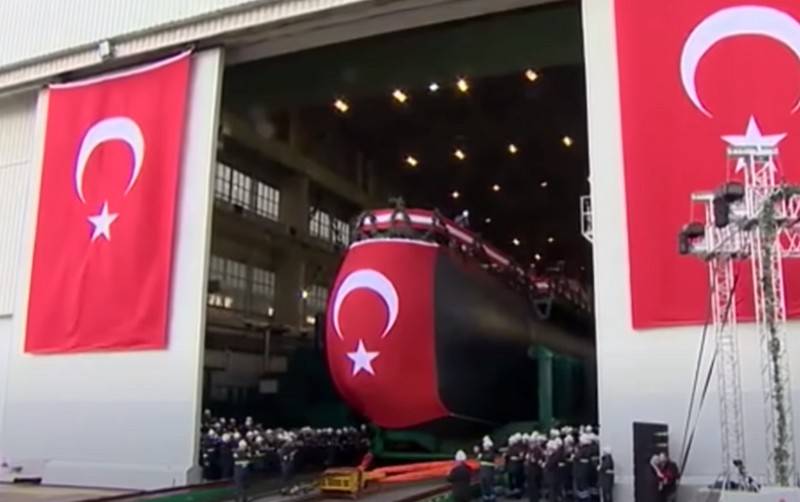 The newest Turkish submarine, Piri Reis, Project Type-214TN, with an air-independent power plant (AIP), is beginning to undergo testing. According to Naval News, the submarine was launched on March 23 at the shipyard in the city of Golcuk in northwestern Turkey.
Piri Reis is the first Turkish diesel-electric submarine built according to the modernized German project "Type-214TN". Named after a Turkish navigator and cartographer of the Ottoman Empire. Laid down in 2015, it was first launched in December 2019 and was supposed to be completed afloat. Commissioning of the submarine is scheduled for 2022. In total, by 2027, Turkey should receive six Type-214TN diesel-electric submarines.
The submarines are being built in cooperation with the largest German shipyard HDW (Howaldtswerke-Deutsche Werft), the contract was signed in 2009. HDW only assembles major hull and mechanical assemblies and some secret components, including fuel cells and propulsion systems. All electronic components and weapon systems are manufactured and installed in Turkey.
The Type-214TN project itself was developed on the basis of the German Type-214 submarines, which are the export version of the Type-212.
The length of the submarine is 68,4 meters, the width of the hull is 6,3 meters, the total underwater displacement is 1860 tons. The boats are manufactured using stealth technologies, equipped with a combined diesel-electric / anaerobic (VNEU fuel cell) power plant. The declared duration of being under water is more than 10 days. Speed ​​under water - up to 20 knots, on the surface - 12 knots. The immersion depth is up to 400 meters. Crew - 40 people.
The Type-214 submarines have eight 533-mm torpedo tubes and are armed with heavy Mk 48 torpedoes, Harpoon anti-ship missiles, and in the future, Atmaca anti-ship missiles. They can set up minefields.