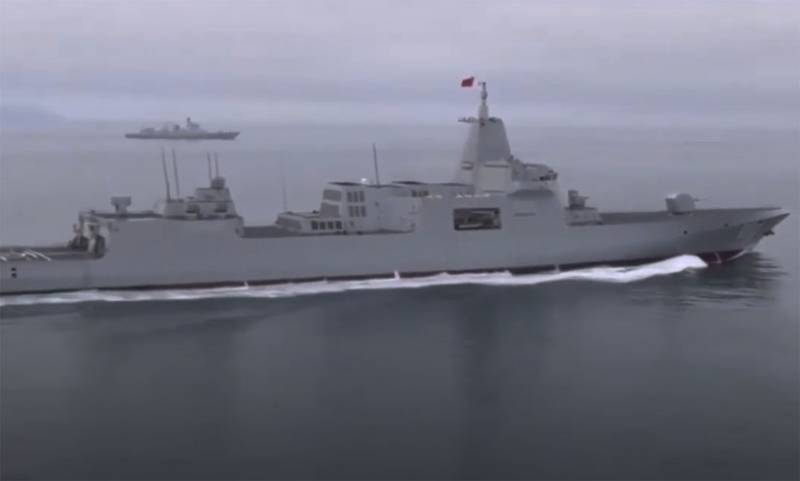 The Ministry of National Defense of China announced that the first serial destroyer of Project 055, belonging to the 4th generation, was officially introduced into the PLA Navy. Thus, as part of the Chinese naval
fleet
the number of destroyers of the mentioned project is equal to two. Project 055 destroyers in the West are called "Chinese Zamwalts" or "Chinese counterparts Zumwalt". True, the cost of a Chinese warship of this type is an order of magnitude lower than the same "Zamvolts", the use of which cannot be found in the US Navy.
The PRC Ministry of Defense reports that the first serial destroyer was officially named Lhasa. This corresponds to the name of the administrative center of the Tibet Autonomous Region of the PRC - a city with a population of one million.
Chinese military official:
The second fourth-generation Project 055 destroyer was commissioned as number 102. It was named Lhasa.
Ren Guoqian, Deputy Director of the Information Bureau of the Ministry of National Defense of the People's Republic of China, noted that Project 055 ships are already a completely new level of capabilities of the Chinese naval forces.
The battleship has a whole arsenal
weapons
, including the latest YJ-18 anti-ship cruise missiles, which entered service about 5 years ago. The maximum range of destruction of a surface target by such a missile is about 550 km. The limiting mass of the warhead is 300 kg.
Noteworthy is the fact that outside of China criticized the name of the newest warship. In particular, anti-Chinese Western media again heard statements about "Beijing's illegal occupation of Tibet." And now there have been added accusations of the military command of the PRC of "substitution of concepts" and "attempts to use the geographical names of the occupied territories to be applied to the military equipment of the Chinese army."
They decided to name their analogue of the American "Zamwolta" after the capital of Tibet. China has no moral right to do so.