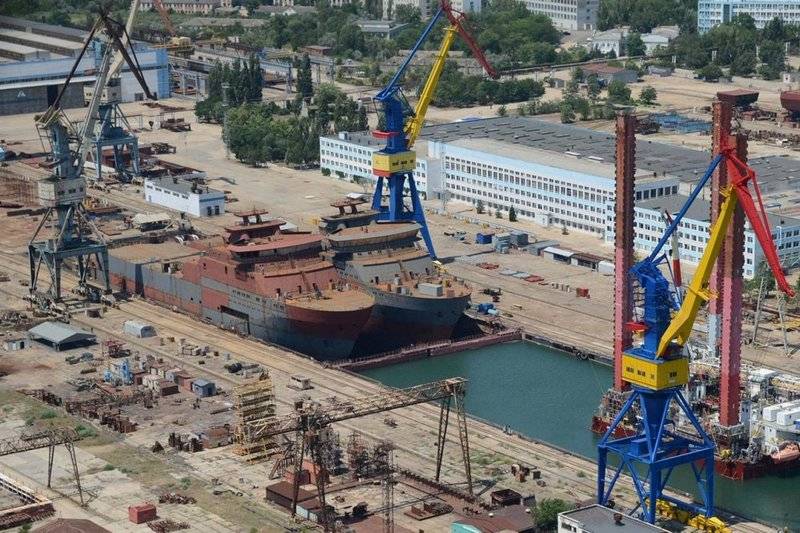 "Vyatka" and "Volga" at the "Zaliv". Photo of 2017
The newest cable ships of the ocean class "Vyatka" and "Volga" of project 15310 will become part of the Russian
fleet
in 2023 and 2024. It is reported by
TASS
with reference to a source in the DIC.
As the newspaper writes, both vessels are being completed at the Zaliv shipyard in Kerch, construction is proceeding according to schedule, there are no problems. The handover of the cable layers is scheduled for 2023 and 2024.
The existing plans provide for the transfer of "Vyatka" and "Volga" to the Russian Navy in 2023 and 2024
- said the source.
Both vessels were laid down in Zelenodolsk in 2015, and since 2016 they have been completed in Kerch. Initially, it was supposed to transfer the ships to the Navy in 2018 and 2019, then the delivery was postponed to 2020-2021, then to 2023-2024. The delay in construction was due to the need to replace imported equipment with domestic. There is unconfirmed information that the Volga was renamed to Sviyaga.
These are giant steamers
- said the source.
The displacement of the cable layer exceeds 10 thousand tons, the length is about 140 meters, and is capable of taking on board up to 5 thousand tons of various cargo. The vessels are of the Arc5 ice class, which assumes independent navigation in thin one-year arctic ice with a thickness of up to 0,8 meters in winter-spring navigation, and up to 1 meter in summer-autumn navigation. The main purpose is the laying and repair of communication lines. Autonomy - up to two months.
After commissioning, one vessel will go to serve in the Northern Fleet, the second - in the Pacific.