Anniversary release of the Henry rifle for the 200th anniversary of its creator. Caliber and cartridge .44-40 WCF. Manufactured by Henry Repeating Arms
It has always been and will always be so that a person takes the first step. Its consequences are not yet obvious. Other people follow him to improve his idea. And only with time you begin to understand the price of this very first step!
"The first man did not attain full knowledge of it."
(Book of the Wisdom of Jesus, son of Sirach. 24:30)
Weapon and firms.
Today we have a "jubilee article" dedicated by tradition to a round date - the 200th anniversary of the birth of a very little-known person in our country, whose name was Benjamin Tyler Henry.
Of course, he doesn't enjoy the same acclaim as Samuel Colt or the legendary Smith and Wesson couple. And yet, he is hardly the most prominent figure in the world of firearms. And those who need it know it. After all, it was Henry who invented the rifle of the same name (Henry rifle), which became the world's first magazine rifle that actually worked.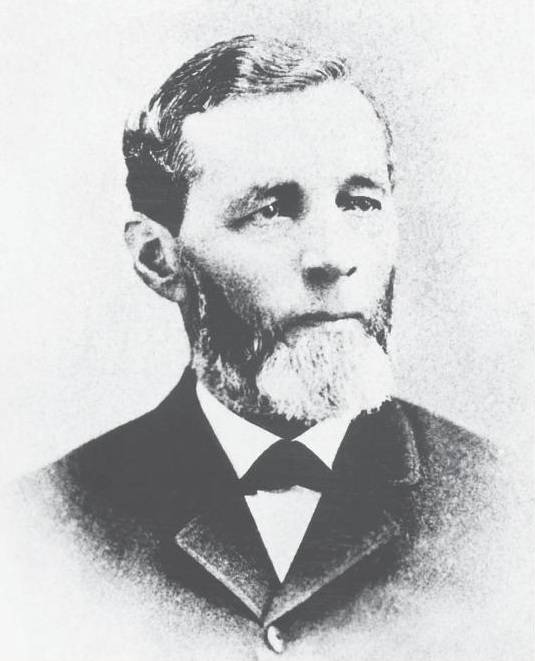 This is what he was like in his mature years - Benjamin Tyler Henry
Henry was born in America in the city of Claremont (Claremont, New Hampshire), March 22, 1821 in one of the most famous families in this city.
His grandfather, Colonel Benjamin Tyler, was the first locksmith in the city, who founded several successful factories there and even invented some kind of improved water wheel. One of his cousins ​​(James Tyler) perfected his grandfather's design, laying the foundation for the family's well-being. The fact is that paper and textile mills needed energy, and the new wheel made it possible to get more of it, and for the same money.
At a young age, Henry became an apprentice gunsmith, progressing from apprentice to master at the Robins & Lawrence Arms Company in Windsor, Vermont. It was here that he worked alongside Horace Smith and Daniel B. Wesson on the design that would eventually become the illustrious Henry Rifle.

Anniversary release of the Henry rifle for the 200th anniversary of its creator
Henry starts making weapons
Smith and Wesson soon formed their first company, Smith & Wesson, which later became the amusing name of the Volcanic Repeating Arms Company. This company was founded in 1855 with the attraction of several new investors, one of which was Oliver Winchester. Perhaps it was one of the richest investors in
stories
weapons.
Unfortunately, this collaboration did not last long. Eight months later, Wesson left for Europe. And Winchester at the end of 1856 forced the company to declare bankruptcy. I bought it for nothing. Transferred to New Haven, Connecticut. And transformed into the New Haven Arms Company, which later became the Winchester Repeating Arms Company.
Henry was then hired as the manager of the Winchester plant. First of all, because all the leaders of the company trusted him.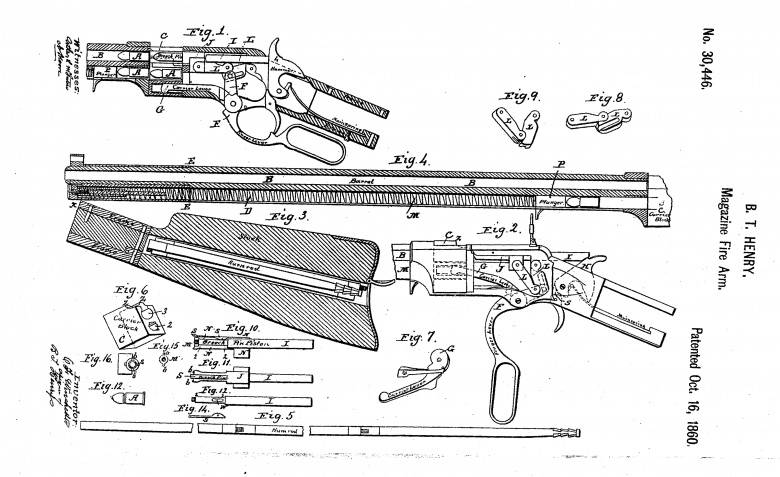 Black and white technical drawing of the original patent for Henry's rifle, patent # 30 446 - October 16, 1860
Henry invents his magazine rifle
But, being the manager, Henry never stopped working on his rifle in order to get a workable design.
Finally, the hard work was crowned with success. And on October 16, 1860, Henry received a patent for the Henry .44 caliber magazine rifle.
And then the Civil War soon began. And his magazine rifle quickly demonstrated its superiority over any muzzle-loading rifle of the time. She first hit the battlefield in 1862. And it turned out that the shooter armed with it, in terms of its firepower, is equal to a dozen people.

Henry's rifle without any decorations. An exact copy of the same ...
At that time, even the most experienced shooter could fire only a few aimed shots per minute from a muzzle-loading primer gun, while Henry's magazine rifle allowed 16 shots without any reloading.
Muskets were much cheaper. Often twice as cheap as Henry. And, nevertheless, it became obvious that it is much more profitable for a soldier to spend money on this particular weapon than on any other.

Receiver in a fashionable now design - "tarnish"
A total of 15000 Henry rifles were produced, many of which are collectibles today. Brass is known to patina beautifully.
At the time, no one could understand what impact the Henry rifle would have on both the world of firearms and human history. As no one at first understood her role in the Civil War, and then in the wars with the Indians.

A great rarity is the Henry carbine. Manufactured by Henry Repeating Arms
Henry's rifle changes the rules of the game
The main thing is that the Henry rifle has become incredibly popular in the civilian sector.
Its sales went especially well on the border between the North and the South: in the states of Kentucky, Illinois, Missouri and Indiana.
An important circumstance was that this rifle was not only fast (in terms of rate of fire). She was also a very accurate weapon. That is, it possessed all the advantages of a highly effective weapon on which human life depends in battle.

And here are samples of carbines of the company Henry Repeating Arms, similar to the weapons of the company "Marlin". And, you must admit that sideways extraction of the liner is still more profitable than upward. By the way, the "marlin" magazine is also charged through the same hole. Conveniently…
Henry breaks up with Winchester
In 1864, Henry resigned from the Winchester Company.
He was unhappy with the compensation for his contribution to the firm's prosperity. And he even petitioned the Connecticut legislature to transfer ownership of the company to him.
Winchester, for his part, quickly returned from Europe and outwitted Henry. He once again transformed New Haven Arms into the Winchester Repeating Arms Company, under whose name it was later known for many decades.
In addition, Winchester combined Henry's original magazine-style carbine with King's invention of the "side-loading door", which turned it into a Model 1866, which was not, in fact, a "Henry's rifle" anymore!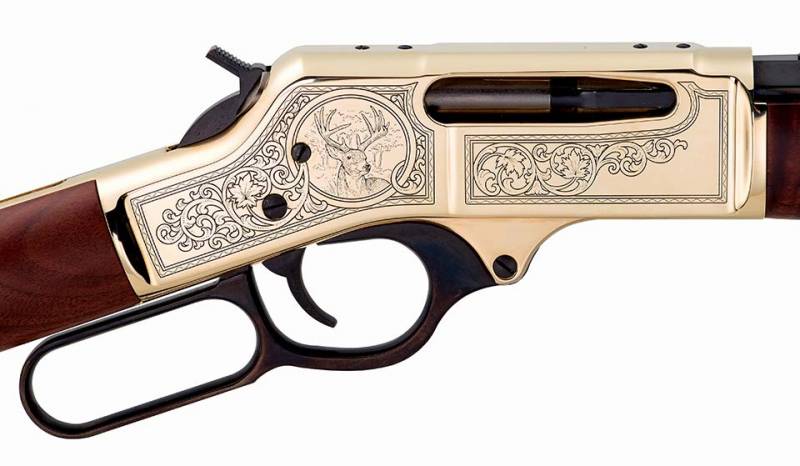 Receiver of this series of shotguns. Right view
However, the problem was not only about money. And not even so much in them.
Henry was unhappy with his job.
More than anything, he wanted to be a designer, and by no means a manager in charge of day-to-day production work. He looked for ways to improve and refine his creation. And he had to sit in his office and sign invoices.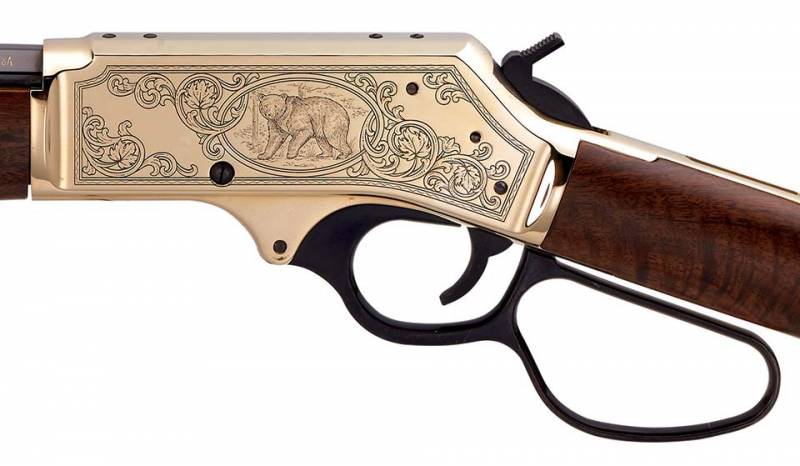 Receiver of this series of shotguns. Left view
As a result, Henry continued his work as a lone gunsmith until his death in 1898.
By all accounts, he was happy. Satisfied with his work, which allowed him to come up with various innovations. And to work with weapons in a way that the same Winchester did not allow him.
He never aspired to fame or fortune by producing firearms. Because if that were his goal, he could easily open another weapons factory after breaking up with Winchester. But he didn't. Such was the original designer.
Well, today, having a "henry" means owning a classic piece of American gun design.
It's just like owning and riding a 1903 Harley-Davidson motorcycle. Of course, you won't win any motorcycle races with him. But who cares? This is hardly the point.

"Shotguns" with a "mare's leg" stock were very popular on the market in 2019. In the US, such a weapon is considered a pistol!
And then it so happened that the Americans began to miss the old Henry rifles.
And there was a man named Louis Imperato, who, together with his son Anthony Imperato in 1996 in Brooklyn (New York), founded a new company called Henry Repeating Arms. And she began to produce copies of Henry's rifles, as well as their modern copies. And it soon became one of the top five long-barreled weapons manufacturers in the United States.
In the firm's mission statement, they wrote that their goal is to produce a line of classic, well-made firearms that everyone can afford. The enthusiasm, experience and professionalism of the company's employees are embodied in its motto:
"Made in America or not made at all."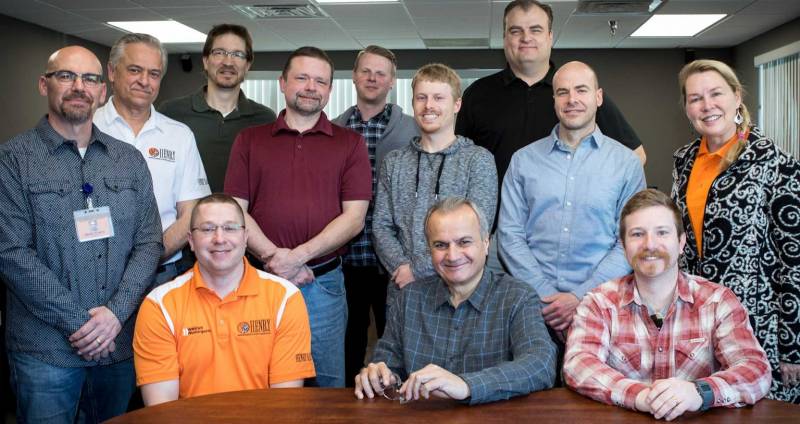 Henry Repeating Arms staff. Anthony Imperato sits in the center
Today Henry Repeating Arms employs over 475 people. It has two factories with a total area of ​​250 square feet. The company is headquartered in Bayonne, New Jersey. And the second is in Rice Lake, Wisconsin.
Louis Imperato ran the company until his death in November 2007. Well, today the post of the president of the company is occupied by Anthony Imperato.
And this is Anthony and the female staff of the company
Henry Repeating Arms manufactures a wide range of lever action rifles in both rimfire and centerfire cartridges. Available in a variety of finishes including hardened brass, hardened silver, hardened colored body and traditional burnished.
To date, the company has sold more than one million Classic Lever Action .22 rifles, which has become its main product.

That carbine over there: Classic Lever Action .22

And this more modern H001ME Hero carbine chambered for the super effective .22 WMR cartridge (for shooting small and medium game at a distance of up to 50 meters) is a tribute to the times. No wonder there is a Picatinny rail on it
And, of course, she produces authentic copies of the "Henry rifle".
Including in a completely luxurious performance, designed for amateurs and fans.
In addition, the company is also the official licensee of the Boy Scouts of America firearms.
PS
The author and administration of the site would like to thank the management of Henry Repeating Arms for the photos and information provided.