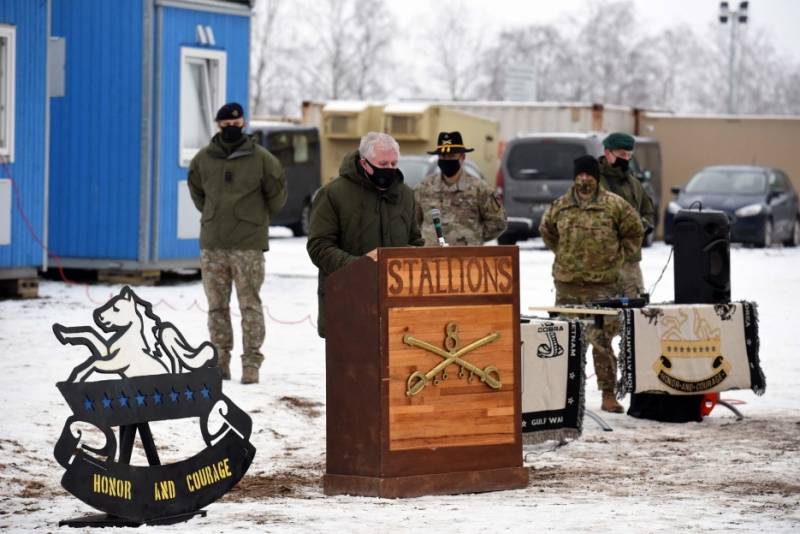 With American military personnel
In Lithuania, the draft amendments to the law "On the organization of the system of national defense and military service" are being discussed. This project is being promoted by the Lithuanian military department headed by Arvydas Anushauskas. The reserve lieutenant (namely, this is the title of Anushauskas) decided to take stock of his 100-day stay in the ministerial position and explain why it is necessary to amend this section of the legislation.
According to the Minister of Defense of the Baltic Republic, the Lithuanian army should "become attractive from the point of view of military service." This statement by the head of the military department underlines the fact that military service in Lithuania remains extremely unpopular. Earlier, the country's authorities returned the compulsory conscription, but young people are clearly not eager to go en masse to serve in the Lithuanian armed forces. There is no particular desire to sign a contract for professional service.
The Ministry of Defense is solving the problem of attracting interest in military service. For example, it is proposed to increase compensation for rental housing for military personnel - from 180-280 euros to 228-440 euros. It is also planned to "increase the distance" from the place of residence to the place of service in terms of payment of compensation for the travel of a soldier. Today, compensation is paid in case of a distance of up to 120 km. After the adoption of the amendments, it will be increased to 200 km.
Anushauskas:
Our army can already protect the country and its citizens. But my goal is for our armed forces to become even stronger in four years, and for public confidence in the army and national defense to increase significantly.
Lithuanian Defense Minister is dissatisfied with the state of affairs in the country with civil defense. According to him, civil defense "remains a gray area."
Anushauskas:
It is necessary to update the issues of civil defense in the education system.
It is planned that the corresponding strategy will be adopted by parliamentarians this year at the autumn session of the Seimas.
A small note: a few months before his appointment as minister, Arvydas Anushauskas proposed to introduce a holiday in Lithuania - the Day of the capture of Moscow by the Polish-Lithuanian army. So far, the initiative has not received approval.