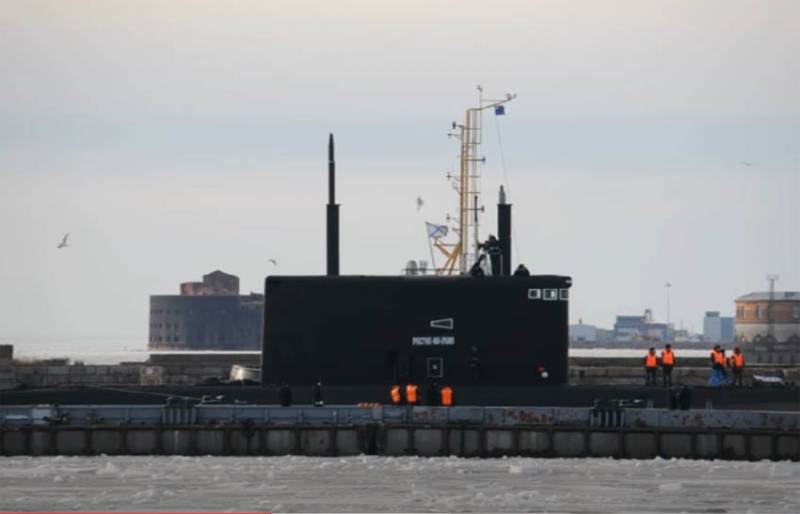 The European press publishes some details about how NATO warships for several days tried to locate the Russian diesel-electric submarine (diesel-electric submarine) "Rostov-on-Don". The fact that NATO members "lost" the Russian submarine, "Voennoye Obozreniye" reported in one of the
news
materials this week.
It became known that several ships from different states that are part of the North Atlantic military bloc were involved in attempts to find a Russian submarine in the Mediterranean Sea. In particular, ships of the Greek, French and Italian naval forces were involved in the operation.
The reports say that "a signal that may have come from a Russian submarine" was tracked in the area of ​​the Greek island of Crete. " At the same time, it was stated that the signal was recorded by one of the ships of the French Navy, which was at that time in the area of ​​the territorial waters of Greece.
Attempts to trace the "lost" submarine Rostov-on-Don were reportedly made by one of the frigates of the Italian Navy. We are talking about the frigate Luigi Rizzo, which used electronic and radar capabilities, but was ultimately unsuccessful.
Greek media reports say that initially "the Russian submarine was tracked by the US Navy's P-8A Poseidon anti-submarine aircraft. According to some reports, it was in the Gibraltar area. However, then the "traces" of the submarine were "lost".
Concern in NATO was caused by the fact that "there was probably a logistical failure, as a result of which warships in the Mediterranean did not receive timely information about the need to control the route of the Russian submarine."
It is added that the NATO anti-submarine forces had problems with tracking the diesel-electric submarines of the Russian Navy against the background of the American strike aircraft carrier group headed by the aircraft carrier USS Dwight D. Eisenhower ("Dwight Eisenhower") in the area of ​​the Greek maritime borders. Thus, it is emphasized that the Russian submarine "Rostov-on-Don" in the Crete region could be in close proximity to the US Navy aircraft carrier and monitor the American AUG.