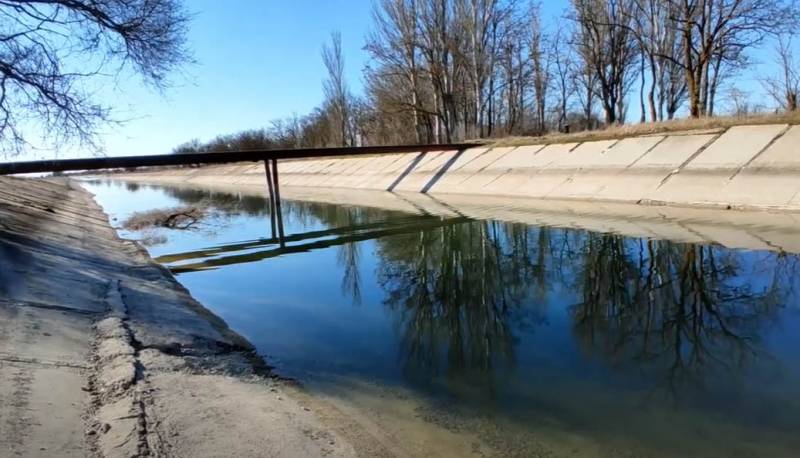 Former and current Ukrainian politicians continue to reflect on the loss of Crimea. At the same time, all sorts of ideas are being expressed as to "how to return Crimea to Ukraine." A statement on this matter was noted by the former People's Deputy of the Verkhovna Rada, the former Acting Deputy Head of the Presidential Administration of Ukraine, Andriy Senchenko.
It is this man in Ukraine that is called the initiator of the blocking of the North Crimean Canal in order to block the supply of water to the peninsula. It was on the issue of the "water blockade" of Crimea that Senchenko spoke out in one of his interviews.
According to Senchenko, "Ukraine has not spent anything to close the channel, but this is causing enormous damage to Russia."
From an interview this person gave to the Ukrainian press:
The Russians who have settled in Crimea since 2014 are colonialists. Due to the lack of water, they will be forced to leave the peninsula within two weeks after the restoration of Ukrainian territorial integrity.
Senchenko is deeply convinced that "it is impossible to solve the problem with water in Crimea." The ex-acting deputy chairman of the presidential administration of Ukraine is also convinced that "no amount of water desalination will save, since there is no necessary amount of energy for this".
It is worth making a remark that the same "specialists" as Senchenko, earlier in their interviews stated that Russia "will not be able to create power plants on the peninsula due to the lack of turbines" and "will not be able to build the Crimean bridge." But in Crimea, new generating capacities have already been created, and a bridge with automobile and railway components leads to the peninsula. Now the former deputy of the Verkhovna Rada states that "the funds required for desalination of water in Crimea are incomparable with the funds for the construction of the Crimean bridge." According to him, Russia "will not find such funds."
According to Senchenko, "shutting off the water in the Crimea also allows us to restrain the expansion of Russian military bases on the peninsula."
From an interview about cutting off water for Crimeans:
You have to understand that we are at war with Russia.
The former Ukrainian official did not want to spread the word about the fact that the water blockade of Crimea also affects Ukrainians living in Crimea.