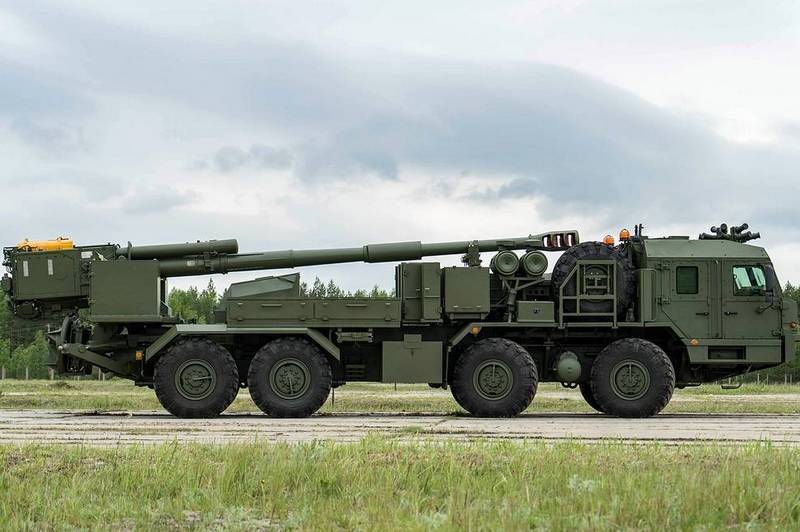 The newest self-propelled artillery gun (SAO) 2S43 "Malva" will enter the state testing stage next year, 2022. Reported by "RIA
News
"with reference to a source in the military-industrial complex.
According to the source, in 2021, the prototype of the CAO will undergo acceptance tests, during which the compliance of the weapon with the requirements of the technical task will be confirmed. State tests are scheduled for 2022.
Acceptance tests will take place in 2021 (...) in case of a positive result, the CAO will be admitted to state tests, the beginning of which is tentatively scheduled for the first quarter of 2022
- said the source.
As part of acceptance tests, which will begin in the spring or summer of this year, "Malva" must shoot a certain number of shells, as well as undergo tests of the chassis on various soils. Factory tests of the CAO were completed at the end of 2020.
SAO 2S43 "Malva" is being developed by the Central Research Institute "Burevestnik" within the framework of the ROC "Sketch". For the first time, the howitzer was presented in 2019 behind closed doors, details of the development are not provided.
It is known that the 152-mm 2A64 cannon used in the Msta-S self-propelled guns is used as a firing component at Malva. It is possible to install an upgraded version of this gun, but the data is missing due to the secrecy of the development. The transportable ammunition load of the howitzer is 30 rounds, the weight of the CAO is 32 tons. The chassis of the "Malva" is the BAZ-6010-027 all-terrain vehicle with an 8x8 wheel arrangement manufactured by the Bryansk Automobile Plant.
As previously reported, in the framework of the R&D project "Sketch" a whole flower garden is being developed, which, in addition to "Mallow", includes 120-mm Flook SAO on the Ural-VV chassis, 120 mm Arctic Magnolia self-propelled guns on the chassis of a two-link tractor DT-30MP and 82-mm mortar "Drok" on the chassis "Typhoon-VDV".