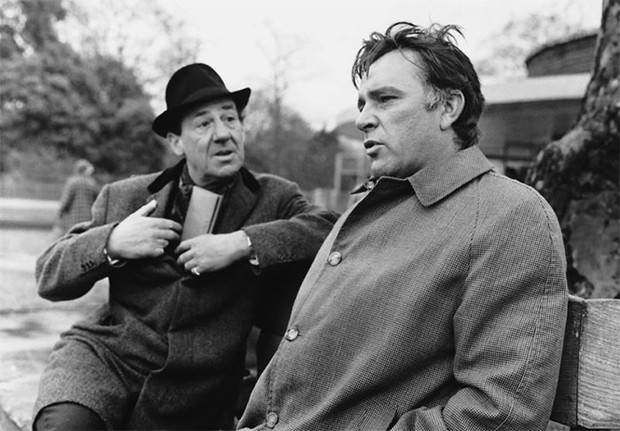 Have you ever wondered how people become spies? No, not as cadre intelligence agents or counterintelligence agents, but spies. Why do people so easily betray their homeland, often without even realizing that this is a betrayal?
What is the difference between a scout and a spy, I think everyone understands. A scout is a citizen of the country for which he works. The spy is, in fact, a traitor who works against the country of which he is a citizen. Therefore, the attitude towards these people is completely different. One works for the good of his country, the other damages his country.
Therefore, we see the scouts who failed and received real terms at home after some time. Exchanges, pardons, etc. Simply put, give it to give. You are ours, we are yours ... A common routine situation. Some are looking for other people's secrets, others are looking for them.
For some reason, the Russians are fully confident that betrayal, treason - it was then, during the Great Patriotic War, during the Cold War, while our citizens were somewhere out there, abroad ... Meanwhile, betrayal is an inalienable , alas, part of our life.
Despite the fact that the majority of Russians are fully confident that they will certainly not be interested in other people's special services and will not be recruited. What do I even know so secret that others do not know? Is there a military factory nearby? So any boy will tell you what they are doing there. Military unit? So what? Go to the checkpoint and look at the gates or chevrons of the military ...
I thought for a long time how to tell about how they become traitors. And I decided that it was worth coming up with
history
betrayal. Somewhat grotesque, playful, but meaningful. So I'll tell you a fairy tale to cheer you up.
Confessions of a secret agent of the Western intelligence service
To the head of the service for catching spies and other enemies
from a resident of the village of Malye Bolshuny Plokhishov M.
Statement
Dear chief of all catchers of foreign spies, I'm sorry I don't know your name and patronymic, but I want to inform you that I am this very spy. True, I found out about this only recently, when, as I was informed from there, I gave out an important military secret. Or the state one, I still do not understand.
Therefore, I ask you to arrest me, interrogate me, tell me what I did blurt out to the enemies, and let me go. Since spring is coming soon and I need to plant vegetables (all kinds of potatoes, beets, onions and other future food) in my own garden. We cannot live without it. Selpo is in a neighboring village, and in winter it is only possible to get there by snowmobile. And only the grandson of Agafya's grandmother has a snowmobile.
Now in order. I am a simple person. He left his Malye Bolshunov only twice in his life. When they were drafted into the army and a couple of years ago, when an army friend wrote a letter and invited him to visit him in Europe. He lives in Estonia and works for us. So he decided to show me his farm.
I will not tell you about the history of the passport. Again Agafya's grandson helped. I ordered everything on the Internet, but I just got this wonderful passport at our passport office. There was no question of money either. I have a large pension. North. And nowhere to spend. So I had enough for round-trip tickets, and the stash was for gifts to a friend.
You know, comrade chief, wonderful people live there, in the border areas. And ours and not ours. Half of those with whom I said goodbye at the border crossing sat with me at the table already in this very Estonia. And how these same Estonians and Russians argued about which country is better. My neck already ached from turning to the next debater.
Such an Estonian takes out his passport and shouts that Estonia is the best. And then he takes out a Russian passport and shouts that he needs this passport in order to receive more salaries in Russia. And from the other end of the table, a Russian is shaking his Russian passport, and the Estonian, blue one, which he also has, he needs in order to go to work in Germany ... Only one thing is that opponents have come together. You need a passport to visit relatives and friends. In short, a circus.
I was asked about what kind of country is their own, so they almost got their face filled. Patriots, however. And I am this dense retrograde, which is stuck in the 19th century. And in general, in the Pechora district of the Pskov region, the passport is not the main thing. They are, like this, mobile. They live in one state, work in another, and go to rest in a third.
I got tired of this policy to the point of hiccups and decided to read the local press. In the sense of reading a newspaper. And what is the most interesting thing in the newspaper, what does the standard of living show? That's right, ads. I read, and there they are invited to work:
"The Department is looking for a well-educated, communicative person for the Intelligence Operations position who understands that life also extends beyond the office and normal working hours. He is expected to enjoy travel and quickly adapt to new cultural spaces and situations. "
That's democracy. Even spies are recruited by ad. Like any diggers or lumberjacks. We, comrade chief, lagged behind these Europeans in matters of recruitment. A flaw is obtained. Well, okay, you are the boss, it's up to you to decide. I even wondered if Agafya's grandson would go to such a job as a sinful thing. Only there was a subscriber - "with knowledge of Russian and English." He will not go, he doesn't always speak Russian clearly, where he also speaks English ...
And then an Estonian patriot came up to me. The one that yelled the most. He sits down and starts talking about a passport for me.
"We would go now with you from these screamers somewhere to the Netherlands. Look at naked women in shop windows ... "
And what to look at them? I've seen enough in a long life. On all sorts of different.
I had doubts that they would take me and my Small Bolshoi for reconnaissance. And he just says so:
"Firstly, there is a possibility, if you are recommended by some of your acquaintances, and you receive an invitation. Secondly, you can propose your own candidacy. And third, you can respond to a job posting. "
It seems like hints that he can recommend me. But I'm not a bastard either. I can't, they say, my mind is weak, and this very mobility, especially in winter, I have practically zero. I mean, I can't leave the village on a mission because of the snow. And he tells me further:
"The common feature of our employees is that it must be a thinking person. If you ask what is our main special means, then my answer is thinking. You can't cope without it. "
It seems like he is praising, which means that my great one is for my tenderness. And then it also warns of the dangers of future work:
"We need to come up with different ways to avoid this. But yes, there is always a risk in working abroad. For the country you work for, you are a scout. For the other side, you are a spy that counterintelligence is trying to catch. "
Well, I think we need to kick this recruiter away from us. And he, you bastard, immediately says so directly to me. If you refuse, we will put your friend in jail for espionage, and we will put you on trial as a Russian resident who came to meet with his agent. I got, in short, like chickens in the pluck. And this recruiter is already talking to me directly. Their own people, it seems.
"We are working in one direction - intelligence at the human level. We are trying to get information that is important for the Republic of Estonia from a person. It's like solving a riddle, and the main riddle is the person. First you need to find a person who is a mystery. Then you need to solve it ... Naturally, first of all, they try to understand the traits of a person's character, his needs and possible weaknesses. This is a long process, when someone is trying to recruit and understand what works in the case of a particular person and what does not. All this takes time. It's not as easy as in the movies. "
In short, I, comrade chief, got out of this very Estonia somehow. I decided to forget this incident. He didn't sign anything, he didn't tell anything. And what am I going to tell you. I live again in Malye Bolshuny.
And then a letter comes to me from a friend. He talks about his life, about his family, household, the weather, that the recruiter is no longer allowed on the doorstep. This is an ordinary everyday letter. And the question at the end - "How are you doing?"
I had to answer. And what to answer something. I wrote about grandmother Agafya, about my garden, about the weather. And then the neighbor came. He says that polar bears came to a neighboring village, not far from here, about 300 kilometers in total. To rob local trash heaps. Spring, now they have problems with food. They hunt on ice floes. And now the ice is weak, crumbling. So the beasts are prowling through the garbage dumps.
Well, me and this
news
I wrote to a friend. Polar bears have appeared, they say, out of the blue. Well, I sent a letter to this very Estonia. And from there an angry rebuke from a friend. Like - why are you a bastard betraying such a homeland? Well, everything is in this style. And a clipping from a local newspaper.
"According to Estonian intelligence, the Russians redeployed their modernized strategic bombers north to attack the Baltic countries. These are the famous Tu-95 in the Arctic version. New
aviation
the unit was named "Polar bears" by analogy with the NATO name Tu-95-Medved. And white because they are stationed in the Arctic Circle. "
Comrade chief, please tell me where to appear for my arrest and, if it doesn't bother you, send some kind of all-terrain vehicle to travel through the tundra. I cannot forgive myself for giving away a state secret. I beg you not to refuse my request.
Respectfully yours, pensioner M. Plokhishov

The tale is a lie, but there is a hint in it. I came up with a hero, I came up with a statement. But there is also a perfect truth in this tale. I'm talking about those quotes, with the exception of the last message about the new aviation unit of strategic bombers of the Russian army.
All quotes are taken from Estonian newspapers. In particular, the conversation with the main character of the recruiter from the Foreign Intelligence Department is excerpts from an interview of the current employee of this department to the correspondent of the Postimees newspaper, which appeared literally a week after the announcement appeared. And the ad itself was published in the EestiEkspress newspaper.
It is clear that Estonia is a small country, and it is more difficult to find people to work in intelligence there than in larger states. And the announcement of the recruitment of scouts is not an Estonian invention. Any state wants to know more about "partners" than open sources say. But I'm talking about something else today. I mean those who choose the path of a spy, the path of the enemy of Russia.
The press flashed a message about the entry into force of the verdict against the resident of Pechora, the Estonian spy Sergei Lykhmus. Like the residents of the border regions described in the "statement", he had dual citizenship. For promises of career growth, monetary rewards, an apartment and a good life in Estonia, I went to cooperate with the Estonian special services.
By the way, a person is not at all like "Comrade Plokhishov". Lawyer, has a higher education, but at the same time failed to find his place in life. He worked at a local sawmill, as a security guard at a gas station in St. Petersburg, but not a day in his specialty.
Let me remind you that under the article for espionage, Lykhmus was threatened with 20 years. However, after a year and a half of investigation, Sergey Lykhmus received on January 29 this year, by the verdict of the Pskov Regional Court, 7 years in a strict regime colony. Hence, it can be assumed that during the investigation he actively collaborated with the Russian special services.
I am always amazed by the fact that some of our citizens do not even understand simple, elementary truths. "What can some kind of 'microbial' Estonia do to us? And even the thought does not arise that Estonian intelligence is part of the global intelligence of the West, part of NATO intelligence. Part of a larger system.
One more thing. About how the specialists treat the failed agents. I remember how six years ago, in September 2014, in the same Pechora region, Estonian Security Police officer Eston Kohver was caught. Then the same Pskov court sentenced him for espionage to 15 years in a strict regime. But then the scout served only a few months. After that, by agreement between the special services of Russia and Estonia, the failed agent was exchanged and today again works in intelligence.
Nobody stood up for the spy Lykhmus. And according to my information, there are no negotiations on it. He is not interesting to anyone. The Moor did his job ... I do not know where Sergei Lykhmus will serve his 7 years of strict strictness, but I know that he will definitely spend these seven years in remote, cold and not very comfortable places. Was it worth it? Is this the normal price for betrayal? From a person to become a creature despised by all ...