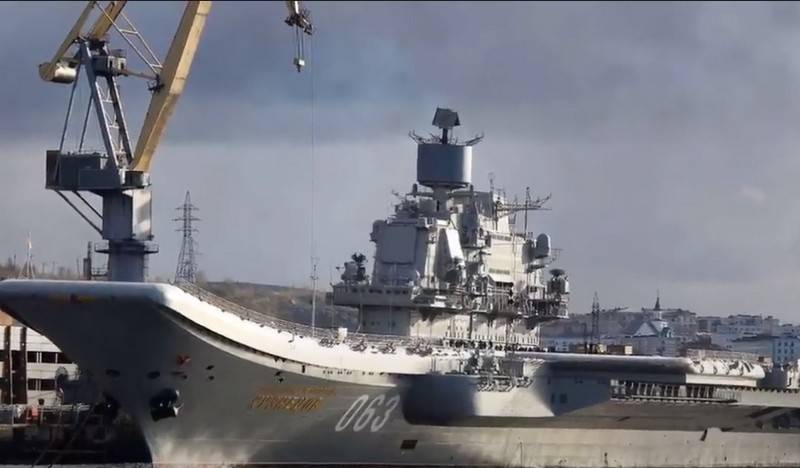 In Murmansk, the general director of the 10th shipyard was arrested as part of a criminal case on embezzlement of funds allocated for the repair of the aircraft-carrying cruiser Admiral Kuznetsov. It is reported by
TASS
with reference to a source in law enforcement.
According to the source, a measure of restraint was applied against the general director - arrest, the decision was made by the Oktyabrsky court of the city of Murmansk. A criminal case was initiated over the theft of 45 million rubles during the repair of the Admiral Kuznetsov cruiser.
As part of the case, searches were carried out on the territory of the 10th Order of the Red Banner of Labor shipyard, as well as in the places of residence of the heads of the shipyard.
The basis was the criminal case opened against the general director of the enterprise, who is suspected of embezzling about 45 million rubles allocated for the repair of the cruiser "Admiral
Fleet
Soviet Union Kuznetsov "
- said the source.
According to 47 News, the 10th SRZ was supposed to perform several stages of cleaning the fuel tanks at the Admiral Kuznetsov, which it successfully reported back in the summer of 2019. According to the documents, the enterprise spent 23 thousand standard hours on work, in fact, having worked only 13 thousand. The overstatement was 45 million rubles.
Recall that the repair and modernization of the Admiral Kuznetsov Tavkr began in 2017. It was originally planned that the cruiser will be delivered to the customer in 2020, but a series of accidents on the ship led to the fact that the timing of the return of the TAVKR began to shift to the right. Currently, Admiral Kuznetsov is located at the 35th shipyard in Murmansk (Zvyozdochka branch).