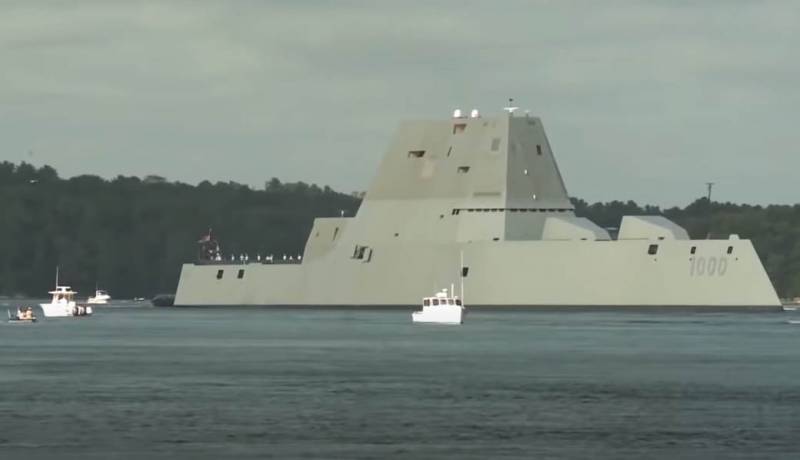 The United States continues to make efforts to determine the optimal destination for its ultra-expensive Zumwalt-class stealth destroyers. To date, there are two of them in the US Navy, one more is on the way, in addition to this, it is planned to commission another such warship. This is despite the fact that initially the program envisaged the construction of 32 "Zamvolts". But when it turned out that each would cost more than $ 4 billion in total, they decided to revise the program.
Now there is speculation about what weapons should be used on ships of this type. If, according to the initial plans, it was even supposed to install a ship's electromagnetic gun, then later this idea was abandoned. At the moment, it turned out that the only
weapon
, which is used by these destroyers in test mode with a few exits to the sea, is the 30-mm ship's cannon. This fact irritates Americans, who do not understand what billions of dollars have been spent on.
Now there is information that as soon as the US Navy will receive ship-based hypersonic missiles, they should immediately be installed on the Zamvolta. At the same time, here it is not without difficulties. The hypersonic missiles being developed in the United States, as it turned out, do not correspond to the dimensions of the cells of vertical launchers. In this regard, it is proposed to "revise the weapons of the destroyers."
In particular, the following idea was put forward regarding the placement of promising hypersonic missiles: to carry out a "revision of the space for naval weapons." In other words, it is proposed to actually rebuild part of the Zumwalt so that the promising missiles would be consistent with the dimensions of the launchers. In particular, a discrepancy in diameter is indicated. For missiles under development, it is 34 ½ inches.
If so, then the cells themselves, in which the missiles are going to be placed, will undergo "restructuring" first. At the same time, the configuration of the missile destroyers' fire control system will also have to be "refined", for which they have already spent tens (if not hundreds) of millions of dollars.
On March 18, the US Navy decided to submit a request to the industrial sector on the subject of how this problem could be solved by "modifying" the stealth destroyers.
How much the implementation of such a program will cost, the US Navy has not yet said.
Recall that a few days earlier, stealth destroyers passed seaworthiness tests. They were deemed successful. It was noted that the wave height "reached 6 m". It is strange that these tests are carried out after the introduction of warships into service with the US Navy.