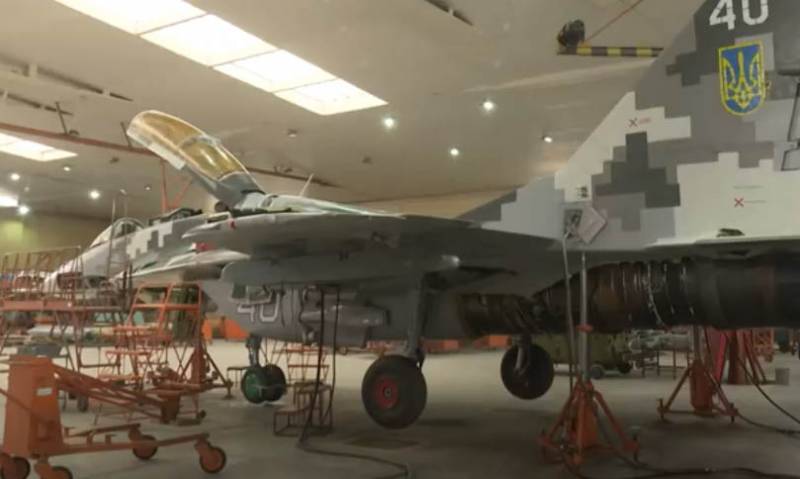 The leadership of the Lviv Aircraft Repair Plant (LGARZ) complains that the country's defense department did not provide the enterprise with the opportunity to implement orders for 2021. It is noted that at the moment the state-owned enterprise is completing work on orders that were received last year and earlier. One of the ongoing contracts is the modernization of the MiG-29 fighter. We are talking about the MiG-29MU2 variant.
Ukrainian media report that "the modernization is almost complete", but there is also a problem. The publication Defense Express says that the MiG-29MU2 fighter runs the risk of remaining in a single copy in the Ukrainian Air Force.
What is the difference between the upgraded version of the MU2 and other variants of the Soviet-designed fighter?
In Ukraine, they note that at the Lviv plant, the car is being turned into a "truly multi-purpose" one. In particular, the aircraft can be used to destroy not only air targets, but also targets on the ground.
Initial work on this type of modernization began in 2018. Now, according to Ukrainian media, the aircraft is going through the final stages of testing, although it is not entirely clear what kind of "final tests are we talking about" if it is in the factory hangar.
Nikolay Chernoshtan, Deputy Chief Engineer of the Lviv Aircraft Repair Plant:
Previously, the MiG-29 was a front-line fighter, using only air-to-air missiles, and now it can use guided weapons against ground targets.
At the same time, the plant itself is sounding the alarm due to the fact that it is getting closer to bankruptcy due to the lack of new orders.