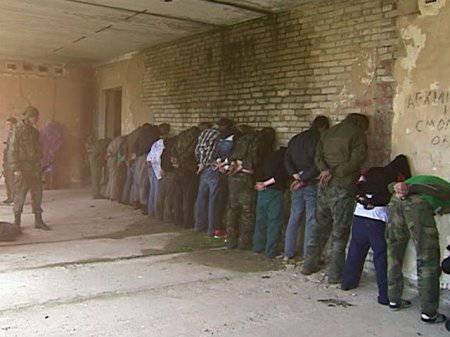 Courses on the training of military journalists took place in the Moscow region. Three days of theory, and then - practice, the conditions of which were as close to real as possible. According to the scenario, the militants take hostages and take them to an abandoned building in the forest.
Three days at the desks and here he is, the exam. Course participants, of course, were warned that there would be practical exercises, but hardly anyone was ready for such a "battle check". Bags on their heads, tied hands behind their backs and even a couple of kicks. They beat them neatly but perceptibly. On the strong mot, too, did not stint.
Under the hum of gunfire, the "captured" journalists crawled about five hundred meters. True, they later confessed: there was a feeling that they were being driven through the forests for about five kilometers. Pseudo-militants have their own task here - to confuse traces and intimidate hostages. For half an hour, journalists had suffered: there were torn pants, broken knees, and even tears. Those who refused to go further were "shot on the spot" and sent for a retake the next day.
"We were lowered face down and we lay when the smoke pipes were thrown," shares extreme impressions Yulia Yakovleva, an employee of the press service of the Russian Emergencies Ministry in the Krasnodar Territory. "And this caustic smoke just started to scrape my throat. another bag was put on his head. It is clear that it was a game, and everyone decided for himself whether to go to the end ... I was shot. "
The course participants were taught first aid skills and even a sapper. They explained that in a combat zone it is not worth picking up anything from the ground and you should always look under your feet: God forbid stretching.
And now - the final point. Hostages lead to an abandoned building deep in the woods. As they say people who have already been in captivity, the first two weeks of the release can not even dream of. After taking hostages, the militants are trying, as they say, to "bury". And only after the first wave of searches subsides, do they begin to get in touch with relatives, or, as is the case with journalists, with the editors.
Here they teach that finding contact with the militants is not a betrayal, but another chance for salvation. The theory, as it turned out, not everyone learned. Some were recorded in the "shot" already at the very end of the exercises.
Journalist Alexander Fedotov says: "Everything is very believable, there was no indulgence, there was a complete presence and a feeling that it really was a seizure. Before that, we were given a lecture, she really helped to control herself in a real situation. Frankly, for the first time I and I hope that I will never get to it again. But if I'm in, these skills will help me to stay alive. "
The course instructor, Colonel Nikolai Ivanov, himself spent six months in captivity between the first and second Chechen campaigns. According to him, for militants there is no difference - officer, private soldier, journalist. The main thing is to get a ransom for the captive. "Psychologically, a person should know that if he was captured and not killed immediately, then life is worth fighting for," says Ivanov. "So, the militants are interested in you, it means you are a hostage. And you just have to withstand this pace and physical exertion." .
Command "hang up". With journalists remove the bags. Breathing in, finally, with a full breast, they admit that after captivity, even if they are not real, the taste of freedom is especially sweet.