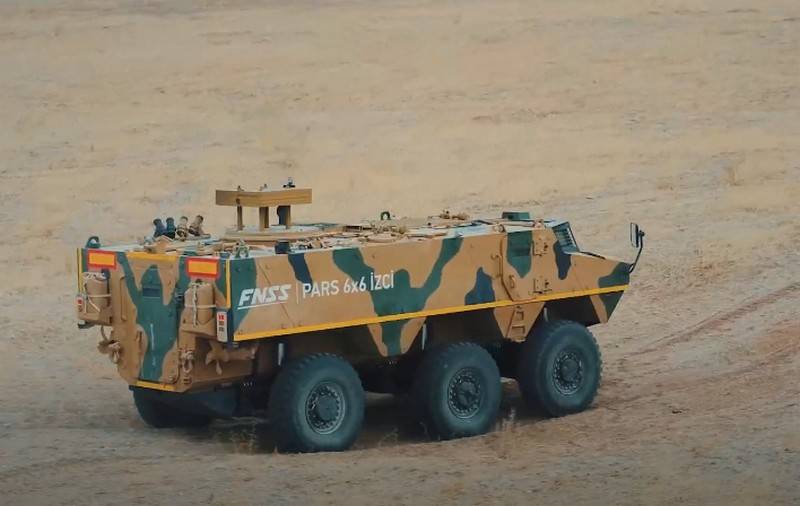 Turkey has begun production of the new Pars İzci armored personnel carrier, the first vehicles will enter the army in 2022. Reported by the Turkish
news
agency Anadolu.
The contract for the development and production of armored vehicles was concluded between the Turkish Defense Industry Authority and FNSS as part of the 14th International Defense Industry Exhibition IDEF-2019.
The Pars İzci armored personnel carrier will be produced on 6X6 and 8X8 chassis in five modifications. It will go into service with the gendarmerie forces and the Turkish army. There is no information about the weapons.
At the first stage, FNSS will supply 100 armored vehicles for two law enforcement agencies. The first pre-production armored personnel carriers should arrive as early as 2022; in total, 36 months are given to fulfill the contract.
In general, the project is designed for 36 months. The first armored personnel carriers will be used by the army and gendarmerie as early as 2022
- FNSS representative Jan Kurt.
The FNSS company said that the Pars İzci armored personnel carrier is a reconnaissance modification in the Pars family of armored vehicles. It is emphasized that this is the first armored personnel carrier on which a Turkish engine manufactured by TÜMOSAN with a capacity of 450 hp is installed. The armored personnel carrier is capable of speeds up to 100 km / h on the highway and 8 km / h afloat.