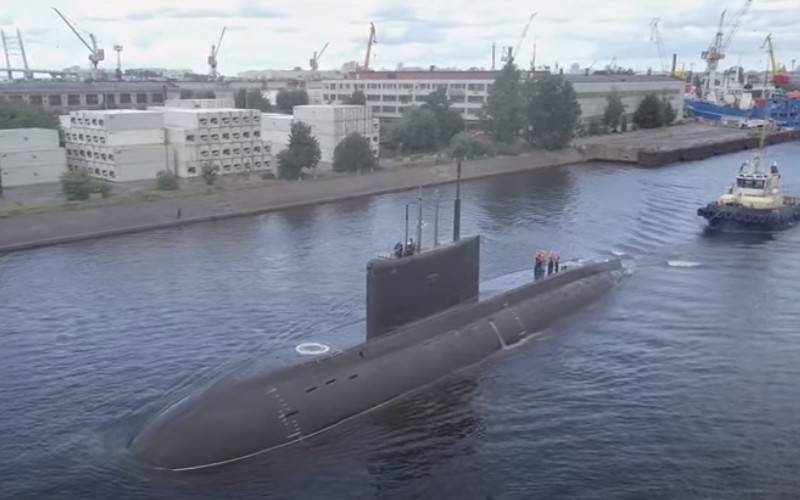 Construction of a series of diesel-electric submarines of project 636.3 "Varshavyanka" for the Pacific
fleet
will be completed in 2024. This was announced by Alexander Buzakov, General Director of the Admiralteyskie Verf shipyard.
According to Buzakov, the sixth submarine for the Pacific Fleet will be handed over to the customer in 2024, at which the construction of the Varshavyanka series for the Pacific Fleet will be completed. The laying of the fifth and sixth submarines is planned for this year and will take place either by Victory Day or by the Day of the Navy.
The sixth boat will be handed over to the fleet in 2024, the construction of the series will be completed
- leads
RIA News
words of the CEO.
At present, Admiralty Shipyards have already handed over to the Navy the lead submarine of the Petropavlovsk-Kamchatsky series and the first serial Volkhov. Both submarines are to make an inter-fleet passage from the Baltic to the Far East, presumably in May along the "southern route": Mediterranean Sea - Suez Canal - Indian Ocean.
The third and fourth submarines of the Magadan and Ufa series were laid down on the same day - November 1, 2019. "Magadan" is being prepared for launching at the end of March this year, its readiness is already more than 80%, there is no information about the timing of a similar procedure with regard to "Ufa".
Earlier, "Admiralty Shipyards" built a series of six "Varshavyanka" for the Black Sea Fleet. Last summer, the general director of the enterprise said that Admiralty Shipyards are awaiting the signing of a contract for a series of diesel-electric submarines for the Baltic Fleet, since in 2021 some of the plant's capacities will be free. At the moment, the Ministry of Defense has not made a decision on the construction.