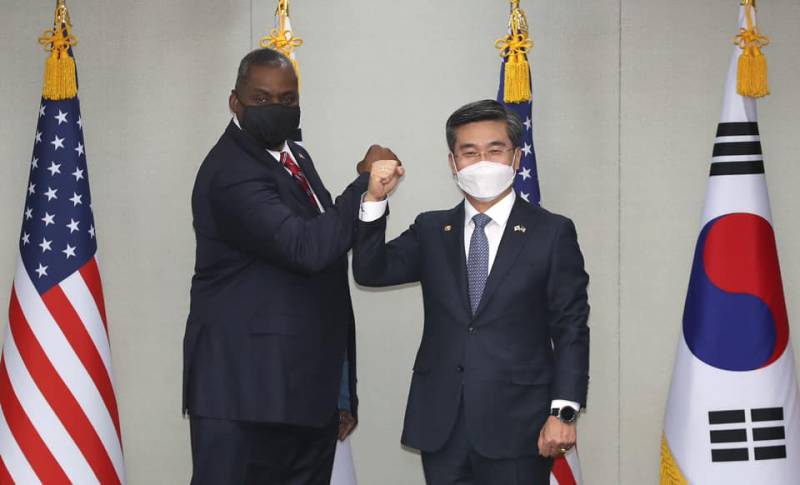 The US Secretary of Defense, whose name was forgotten by President Joe Biden during his speech, made a statement during his Asian tour. Recall that the circle of countries that are registered to visit Lloyd Austin includes South Korea, Japan and India.
While on a visit to Seoul, Austin said that "security cooperation has never been so important for South Korea and the United States." According to the head of the Pentagon, "Pyongyang and Beijing are throwing powerful challenges to South Korea, which must be contained together."
During a meeting with the Minister of Defense of the Republic of Korea, Lloyd Austin said that Washington will continue to make efforts to "completely denuclearize the Korean Peninsula." At the same time, the US Secretary of Defense once again complained that Pyongyang, in fact, ignores the "diplomatic" attempts made by the United States about "starting a dialogue." Recall that the DPRK officials have not yet reacted in any way to the US actions regarding "denuclearization". Apparently, Pyongyang understands very well what any negotiations with Washington on security are really worth.
The United States is clearly annoyed that Kim Jong-un is ignoring their "messages", however, they can not oppose this, except for openly aggressive rhetoric about the "North Korean threat". The reason is also that, perhaps, all the sanctions that are possible against the DPRK by Washington have already been introduced. And with these sanctions, the United States only spurred Pyongyang to develop nuclear missile technologies.
Noteworthy is the fact that the militant rhetoric of the United States, including against Beijing, manifests itself before the planned meeting of the heads of diplomatic departments of the United States and China. This meeting is to take place in Alaska in a few days. It seems that the current American administration has decided that everything is allowed to it in the sphere of speech, and that no negative consequences should be expected in this regard.