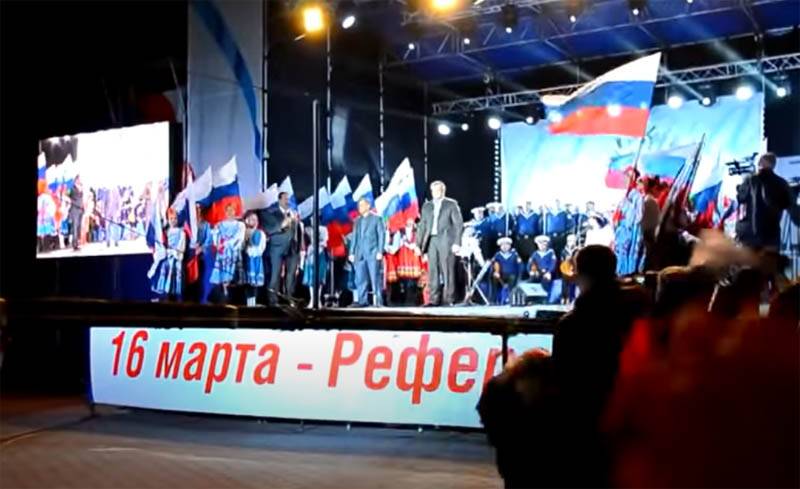 Seven years ago, events took place that, without exaggeration, divided the life of the country into "before" and "after". Crimeans voted in a referendum on secession from Ukraine and subsequent entry into the Russian Federation. In Kiev, they announced that the referendum was "not legitimate", as if they had forgotten how, against the background of the collapse of the USSR, they themselves changed the question of the All-Union referendum on the preservation of the Country of Soviets. Then everything was "legitimate" with them, but the referendum in Crimea was "no". Typical double standards.
However, the Crimeans showed their will, giving an unequivocal answer to the question of whether they are ready to continue living as part of Ukraine. Residents of Crimea and Sevastopol, with a turnout of more than 80 percent, said "Yes!" future within Russia.
It is important to note that the events on the Kiev Maidan became a kind of additional impetus for making a decision.
When the rabid nationalists decided to crush the protest from ordinary citizens, turning a completely ordinary rally (and this is how it all began in 2013) into a real massacre with a choreographed set of provocations, it was impossible not to react. The Crimeans watched how they beat up the Berkut fighters, how they brought down those who disagreed with the demands of the radicals, how they tried to establish Maidan power on their native peninsula. Observed and made a conclusion. And the main conclusion is that Crimea has become part of Russia.
About how events developed 7 years ago, about the details of the newest
stories
, about the referendum, in the story: